It's safe to say that the C word is by far one of the most hated words out there. Most of us have unfortunately been affected by cancer one way or another, either directly or through our loved ones. When it came to partaking in an event for this amazing cause, it was a no-brainer for us – we knew we had to be Pretty Muddy®. So earlier in the year the team at Treco decided that this was the year for us. And because we have such a strong team spirit and enjoy doing various events as a team, we volunteered five of our gorgeous ladies for the challenge.
We were so passionate for the cause that we wanted to set a realistic but significant target and so we settled for £2,000. On the run up to the event we did various activities to help raise money. As well as shouting about it all over social media, we organised a raffle and carried out bakes sales. With the scrumptious cakes, we even walked around the industrial estate and were so pleased to see a lot of the local businesses that helped our cause. To top it, we organised a local Go Karting day and in order to join us for the day, you had to donate to our cause.
After months and months of fundraising and training – well, sort of – the day had finally arrived to get, well, Pretty Muddy®! It was a gloriously hot Sunday morning on July the 24th and the atmosphere was electric. We were all buzzing and the five amazing women had practically the entire office – directors and all – to scream support from the side lines.
So this is what I forgot to mention - Pretty Muddy® is a muddy obstacle course where the participants will need to climb over, crawl under, and charge through "to show cancer that hell hath no fury like a woman in pink." (Pretty Muddy®)
It was Team Treco's turn to start at 11.15am and so rightly, the ladies decided to start their warm up at 11am – nothing like being prepared and loosening up those tight muscles. Fifteen minutes of warm up and our girls should have their adrenalin pumping and be ready to kick some…mud. Well, that is if they weren't completely worn out by the end of the 15-minute session! You just couldn't make it up LOL!
Eventually, off they went running from one inflatable obstacle to another, climbing over nets, crawling under some other nets, wading through heaps and heaps of mud, crawling through tunnels and cheering each other on to keep going, while getting absolutely soaked with buckets and buckets of water that were being chucked over them as they ran. We're pretty sure they seemed to speed up every time they ran past the Treco team watching them – perhaps hoping they'll whizz by like Lewis in his Mercedes and we'll miss them completely. Not a chance! We witnessed every red face panting for breath, while pulling each other to keep up.
It was a lovely day all round with friendly people wherever you turned and Pretty Muddy® had organised another unforgettable event in the name of cancer. The girls laughed so much til they were practically crying – or were those tears of pain – and they offered the rest of the team cheering them ample entertainment too! They all received a medal at the end of it for being such fighters and a lovely, cold bottle of bubbly, deservedly.
To date, we have raised £2,393 and are still working hard to reach (and exceed) the £2,500 mark. Dig deep and donate to the cause so together we can make a difference to Cancer Research's work in continuously finding a cure that could spare us the pain of losing someone we love. Just visit our Just Giving page and donate as much or as little as you can afford, because every little DOES help.Thank you.
And now back to our mission to continue to embarrass our amazing ladies. In all fairness, we did think long and hard about this but I'm afraid the unanimous decision is to share the images with the world.
No, really, thank you Abi, Alice, Cathy, Vicky and Holly for taking one for the team. You girls are awesome and we're all dead proud of you! But you're not getting out of this just yet.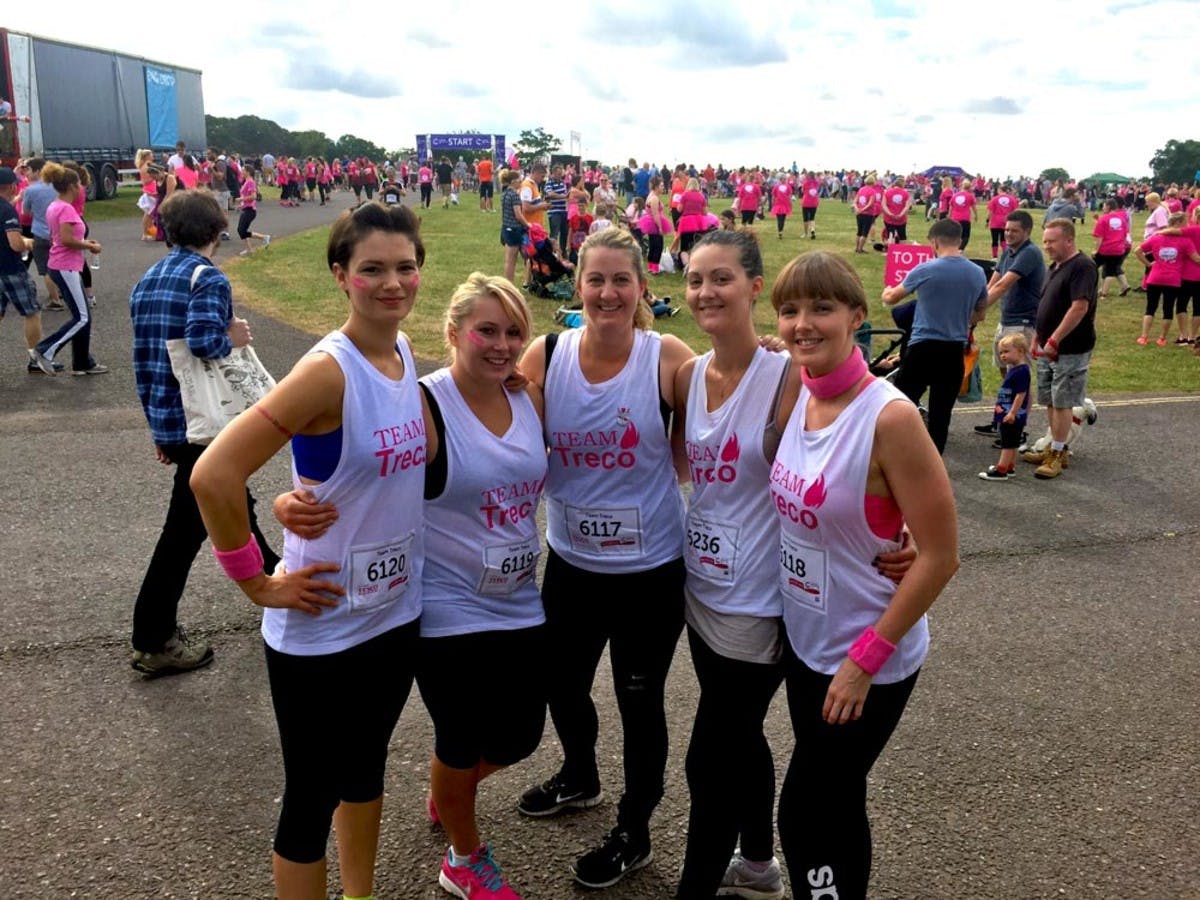 Pretty in Pink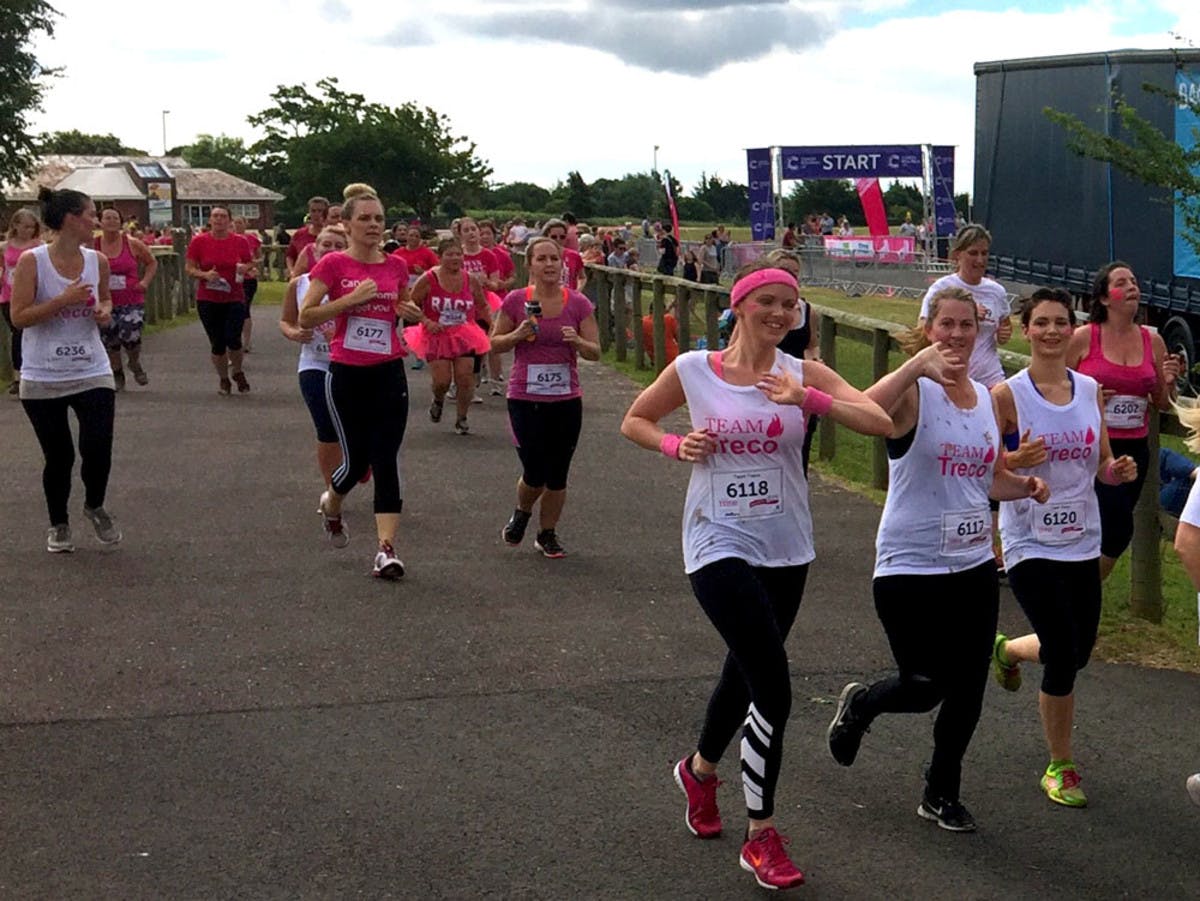 Still buzzing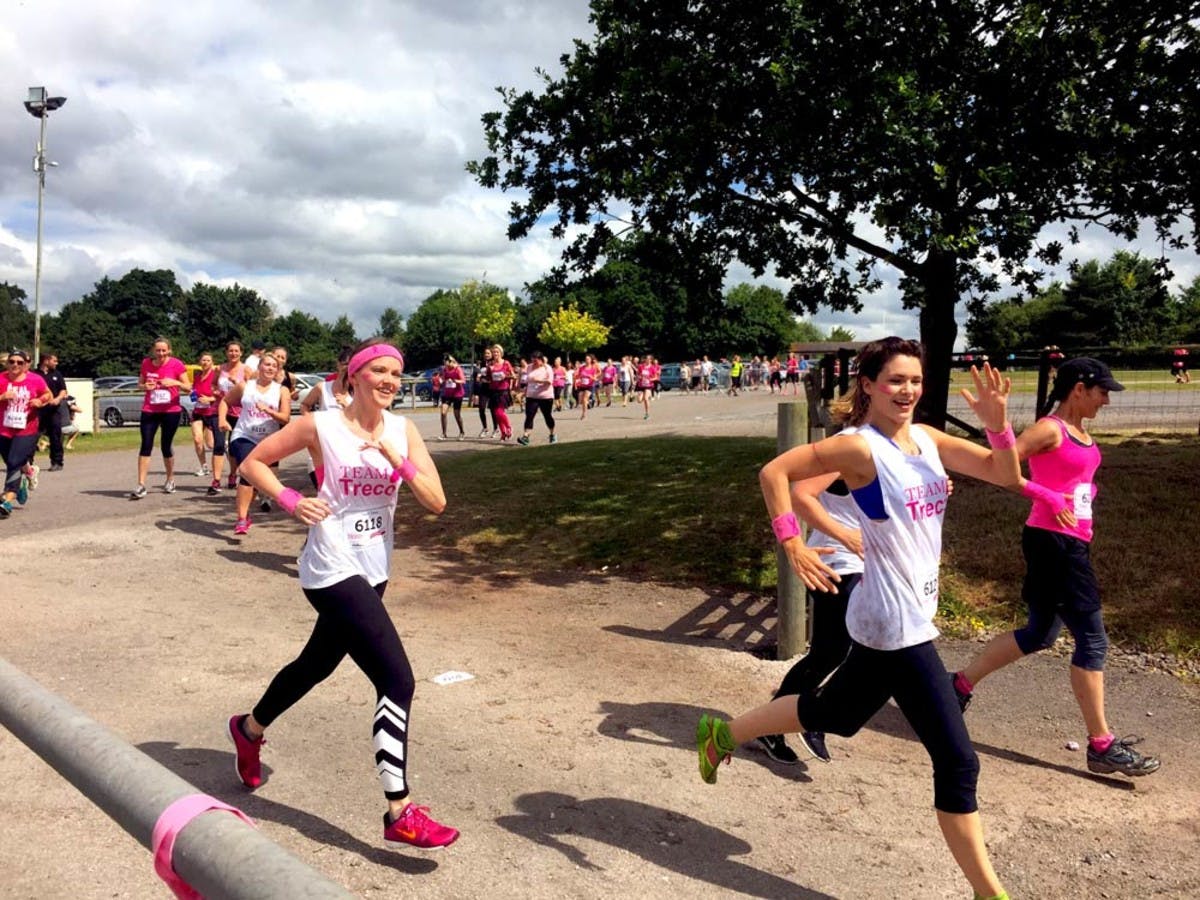 Is it just me or have they increased their stride?
Now, let the fun begin! And there are just no words needed.
You're most welcome!