Walkern Hall Estate
Georgian manor house uses wood chip biomass boiler system to gain RHI payments and 80% lower fuel costs
Key Facts
Location
Stevenage, Hertfordshire
Project included
Guntamatic 198kW Powerchip system including two 1,500 litre thermal stores
Distribution pipework including internal connections to heat exchangersDownloads
Fuel consumption
Approximately 54 tonnes of chips per annum
Fuel cost saving
Around 50%-80% savings for wood chips vs heating oil
CO₂ saving
Approximately 43 tonnes per annum vs heating oil
RHI payments
A project of this size would gain around £22,000 every year for 20 years, index linked to inflation.
Total project cost
£95,000
ROI
3-4 years (combining RHI income & fuel cost saving).
Downloads
I was very happy with the service I received from Treco. They gave us sound, practical advice at every step. The ongoing support has been excellent and it is refreshing to work with an experienced biomass boiler specialist with a systems integration approach
Overview
Walkern Hall is an imposing Georgian Manor House set in an estate with gardens, woodlands and extensive parkland. It also contains two flats, a refurbished coach house, stables and an estate office. The house and grounds are regularly used for private parties, events, weddings, film locations and photo shoots.

The challenge
Guest comfort at the venue is paramount, which necessitates a reliable, high and consistent supply of heat. The client wanted to reduce ever-increasing and significant oil bills for heating several separate buildings with individual oil boilers. The fuel store and boiler house had to be located be in a disused outbuilding sited in between the main buildings, linked by underground heat main.
Our custom solution
Treco supplied and installed two 99kW Guntamatic Powerchip biomass boilers, commissioned to burn wood chips. The boilers were installed in cascade, complete with two 1,500 litre buffer tanks. Twin fuel stores are located in an existing stable block at ground level and they automatically feed wood chips into the boilers situated in a neighbouring building. Heat is supplied to the main house via an underground heat main which Treco supplied and installed.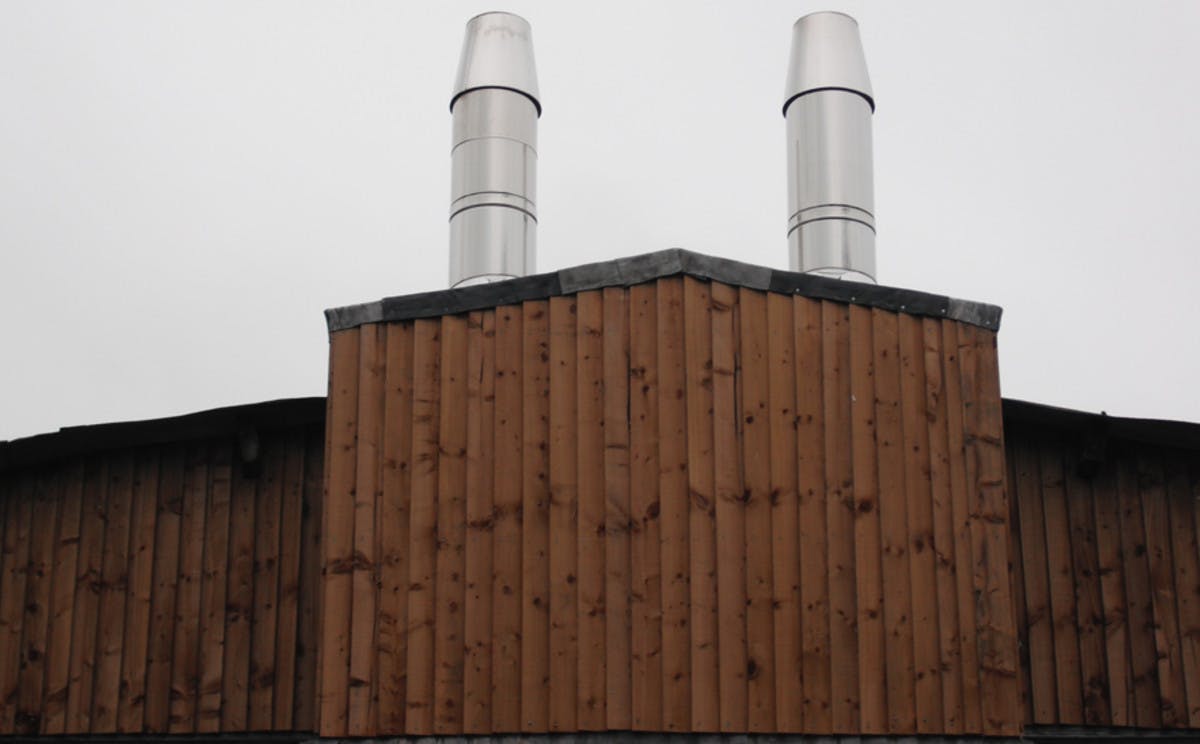 Treco's design, installation, commissioning and maintenance service included:
Two top-of-the-range 99kW Guntamatic Powerchip biomass boilers in cascade
Biomass boilers linked and plumbed into existing heating and hot water system
2 x 1,500 litre thermal stores
Fully automated wood chip fuel delivery system
2 x 2m agitators and 2 x 3.25m augers to enable a large enough fuel store to be built in order to minimise the time between fills
Supply of underground heat main
Heat Interface Unit and RHI approved heat meters which record heat use in kWh (on which RHI payments are based) complete with certification
Assistance with RHI application including schematic drawings
Commissioning, programming and end user training.
More details on this specific biomass boiler used on this installation can be found on the Guntamatic Powerchip page, with further details of our entire range available through the biomass boilers page.
The incentive
As well as delivering fuel cost savings of 50%-80%, the installation is now accredited into the Renewable Heat Incentive (RHI). This will enable them to gain payments per kWh of green heat generated by submitting quarterly meter readings to Ofgem. A project of this size would gain an average of £22,000 every year for 20 years, index linked to inflation.