What is biomass?
Biomass is organic material derived from plants and animals. Biomass energy is, therefore, produced by burning these biological materials to provide a renewable and sustainable source of fuel. Of all the biomass material, wood fuel still remains the most commonly used form in biomass boilers.
What are the advantages of a biomass boiler?
Whilst biomass heating systems will cost more than the equivalent fossil fuel boiler, there are significant financial benefits by opting for biomass with a typical installation seeing a long term return on investment of around 20% for 20 years.
The main driving force behind the success of biomass boiler installations in recent years has been the Renewable Heat Incentive (RHI). This is a government initiated scheme that was set up to encourage the use of renewable heat technologies among home owners, communities and businesses by providing financial incentives. The scheme pays participants each quarter for every kWh of heat generated and used over the past 3 months, with the commercial scheme lasting 20 years and domestic 7 years. As the capital expenditure on commercial projects is typically paid off in around 5 years, this leaves a further 15 years of RHI payments for owners to benefit from. The payments are index linked as well, so the rate per kWh increases each year in line with the consumer price index. Further details on this scheme can be found on the RHI section of this website.
Commercial biomass boiler systems are capable of burning a range of fuels such as wood chip, wood pellet, logs, grains, straw and miscanthus. By switching to a biomass boiler from a fossil fuel source such as oil, you could expect to see fuel savings from anywhere between 30% to 50%, or even up to 80% if biomass is replacing electric for heating.
Further advantages are that many businesses can burn by-products produced on site, such as pallets and wood off-cut. This not only provides some businesses free fuel, but also removes disposal costs associated with waste removal from site.
Along with the financial benefits you can also play your part in reducing carbon emissions by replacing a fossil fuel boiler with a biomass boiler.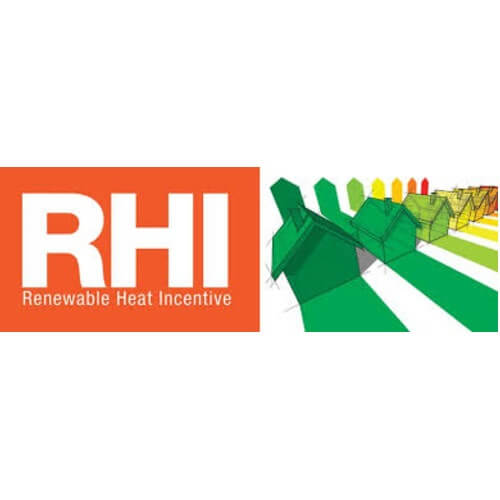 RHI payments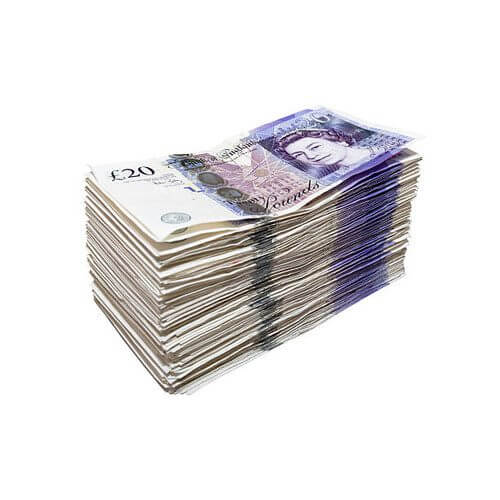 Fuel savings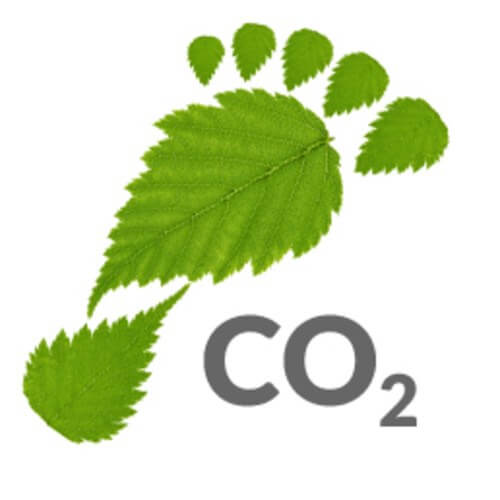 Carbon footprint
Types of biomass boiler systems
There are 3 main types of biomass systems; low temperature hot water (LTHW), high temperature hot water (HTHW) and steam.
LTHW accounts for the vast majority of boilers sold on in the UK (regardless of fuel type) and are typically run at temperatures no higher than 90°C, often slightly lower. Biomass LTHW boilers tend to be the most common replacement for fossil fuel boilers and are used for space heating in homes, residential buildings, commercial properties such as offices, restaurants, hotels etc. and district heating systems. These are typically sized up to 1MW in size, though larger ones are available.
HTHW and steam systems are designed to operate at higher export temperatures than LTHW systems. The exact operating temperatures will depend on the pressure of the system, which varies between individual boilers. Whilst temperatures just over 90°C would classify as HTHW, these systems will typically range from 150 to 280°C. These are more appropriate for sites that have a high, constant heat demand, so are typically used where there is a process heat requirement on site for things such as cooking, cleaning, chemical production, along with other larger users of energy such as hospitals. These are typically larger than LTHW with sizes ranging from 100kW up to 30MW.
Treco are the importers and distributors of two of the largest Austrian biomass boiler manufacturers, Guntamatic and Froling, who have an extensive range of systems that cover any LTHW requirement. We do however pride ourselves on providing the most appropriate system for the application, so we will source other systems that provide a better solution for the end user, such as Uniconfort when it comes to HTHW and steam systems.
Over the past 12 years Treco have supplied and installed a wide range of domestic and commercial biomass boiler systems in various applications. With over 700 biomass systems supplied and installed to date, we have the experience to not only advise on the right system for your application, but to deliver the project in its entirety.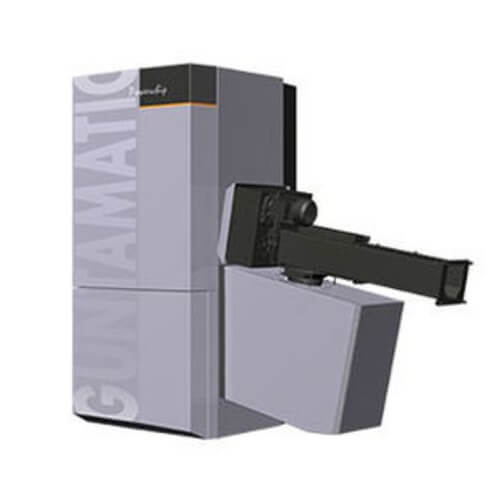 LTHW biomass boiler
Guntamatic Powerchip 100kW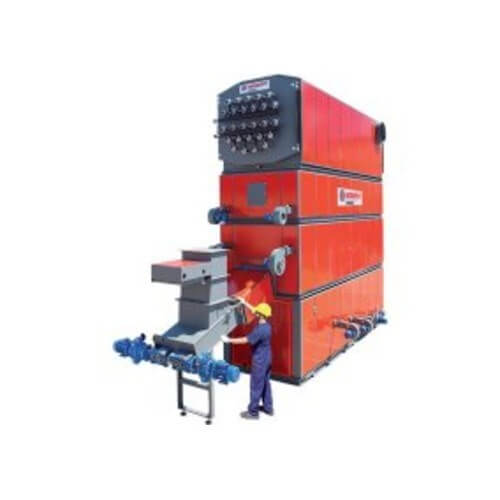 HTHW biomass boiler
Uniconfort Global 1MW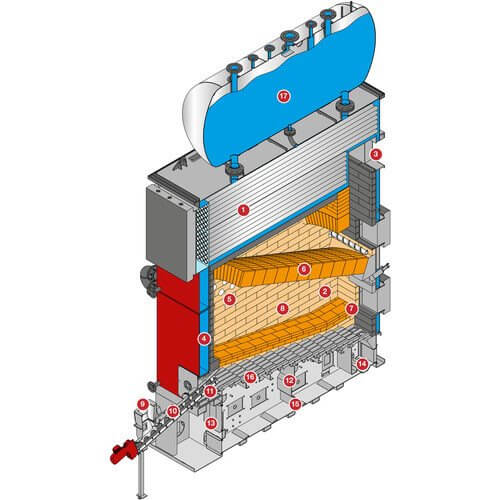 Steam biomass boiler
Binder steam boiler
Biomass boiler fuel types
Whilst there is a wide range of material that can be classified as biomass fuel such as grain, miscanthus and chicken litter, the vast majority of systems use 1 of 3 main types; log, wood pellet and wood chip.
Logs are a popular choice of fuel for those who have access to a lot of woodland, but do not have the facilities or the desire to chip their fuel. In the majority of cases logs achieve the greatest fuel savings as they are either sourced for free from the user's own land, or the cost per kWh is lower than chip or pellet as there is less processing involved. Logs are manually loaded in to the boiler, so day to day interaction is required from the owner.
Wood pellets are a biomass fuel made from compressed sawdust, produced as a waste from sawmills. Their shape is achieved by compression at the pellet processing plant. Wood pellets are purchased from a fuel supplier and are usually blown into the fuel store from up to 25m away. Unlike log systems which require manual filling, when connected to a bulk fuel store a pellet biomass boiler will be completely automated.
Wood chips are small pieces of wood which have been through a chipper to produce suitably sized fuel for boilers. If owners have their own fuel supply then wood can be chipped directly into the fuel store. If wood chip needs to be purchased in then it can either be tipped in front of the store then transferred in by on site plant such as excavators or even via a tough and auger system. In some cases fuel delivery companies can also do blown fuel deliveries. Much like pellet, once in the fuel store these are automatically fed to the biomass boiler. Wood chip tends to cost around 30% less per kWh than pellets, as there is less processing involved, and can be sourced more locally.
Along with virgin wood chip, waste / recycled wood chip can also be used in suitable systems. For certain companies this is a great way of not only saving on disposal costs for waste wood that was previously disposed of offsite, but it also gives them a free supply of fuel to cover their heating requirements. Where not available on site, waste / recycled wood chip can also be purchased through fuel suppliers at cheaper rates than virgin wood.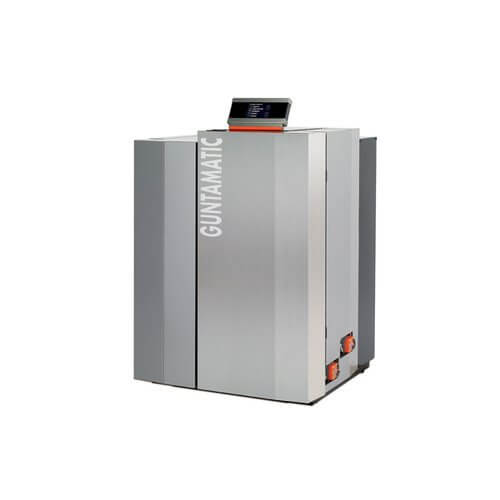 Log biomass boiler
Guntamatic BMK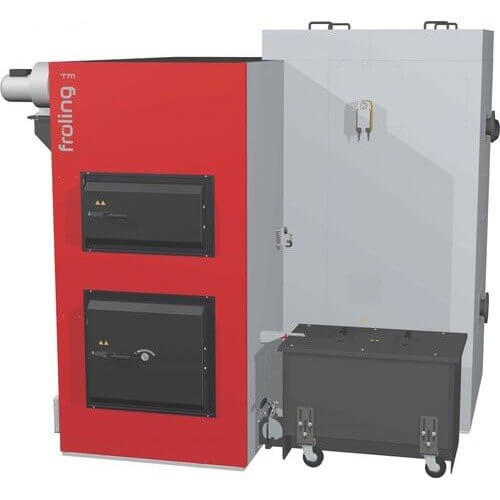 Wood chip biomass boiler
Froling Turbomat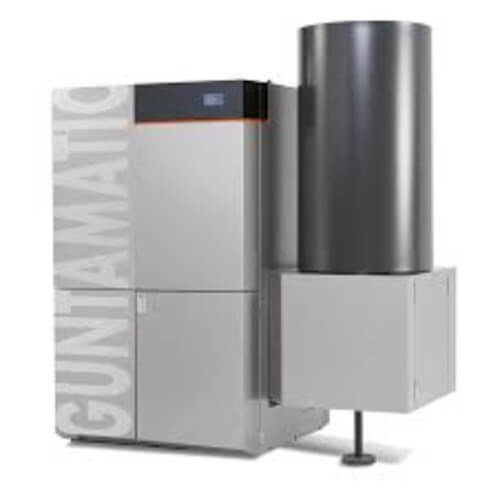 Pellet biomass boiler
Guntamatic Biocom