What is district heating?
The means to efficiently transport heat, in the form of hot water or steam, to a single building of multiple units, such as a tower block of multiple flats; or to multiple buildings in an area using a network of pre-insulated pipes from the point of generation to the end user. It is also better known as a district heating scheme or a heat network. From carrying heat between residential properties a few hundred metres away to supplying communities and industrial areas at a distance of several kilometres, the network varies greatly in size and length.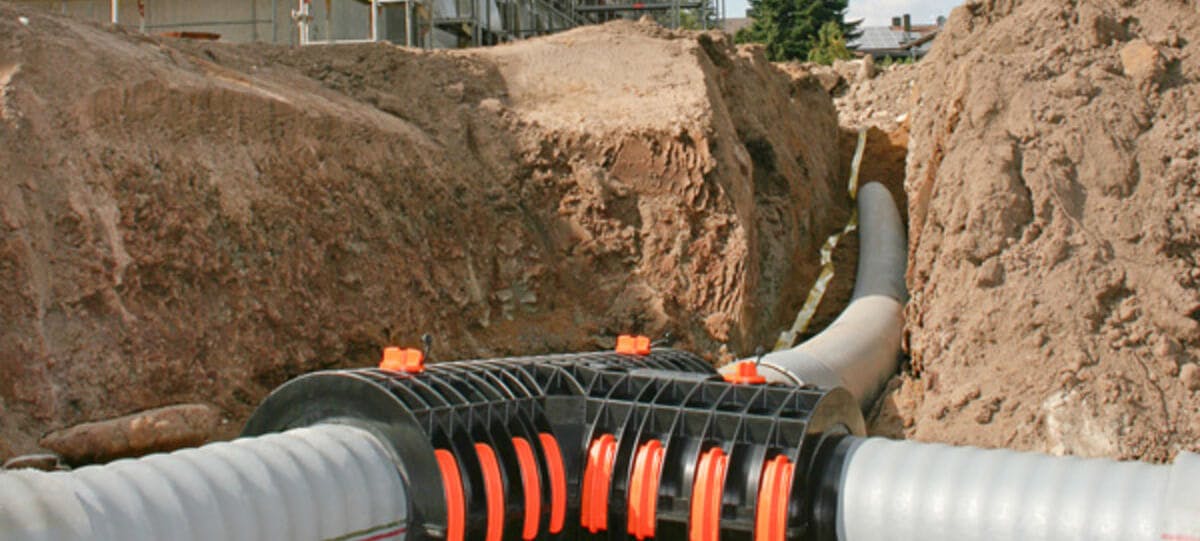 A heat network enables energy which would otherwise be wasted in power generation of industrial processes, to be captured and delivered to householders and businesses. A district heating scheme is ideal for residential, commercial and public premises as well as mixed use developments.
Biomass district heating allows commercial landlords to easily monitor heat usage via heat meters. The actual heat usage within each building or flat can be separately measured, and delivered heat accurately and easily billed for.
Powered by a range of low carbon energy solutions including CHP plants, heat pumps and biomass systems, these networks are very flexible and can be installed either above or below ground. An installation can be on any scale from lower than 50kW to beyond 50MW, which translates to large energy savings which can then be multiplied across multiple units, buildings or zones.
Characteristics of district heating systems in the UK:
large-scale heat source;
low-emission technology, such as highly efficient boilers, combined heat and power or biomass;
supply to multiple buildings on a campus or confined area;
more common in public sector rather than private sector;
heat users often include residential sector with purpose-built social housing estates more strongly represented;
distribution pipework is highly insulated and usually below ground;
primary heating distribution pipework separated from heat users' heating systems by heat exchangers;
steam or medium/high-pressured hot water; and
management by energy services company or other third party.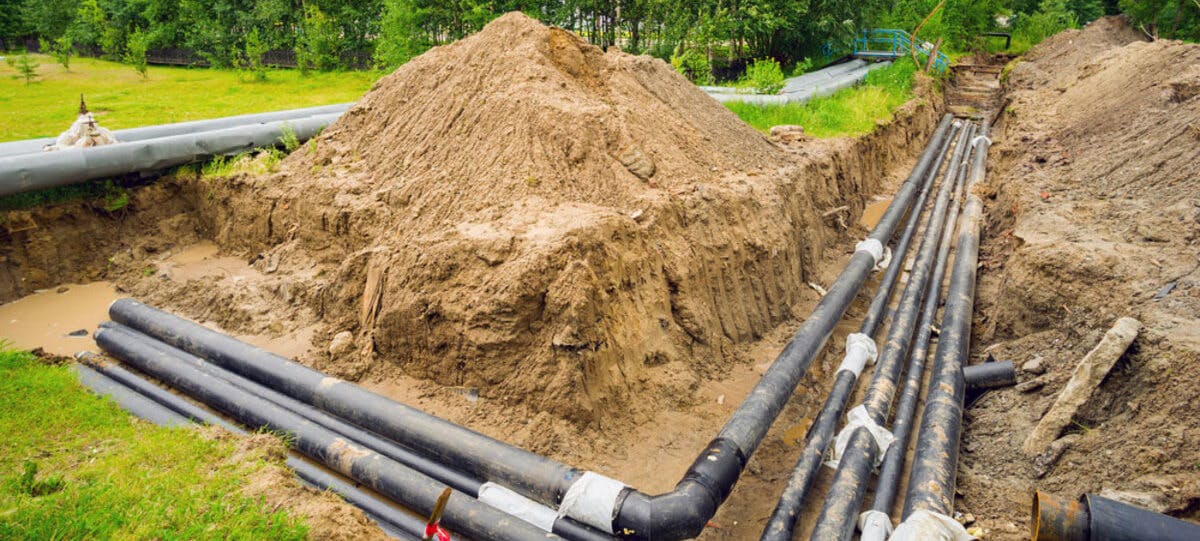 How is a district heating system beneficial?
By using a combination of low carbon technologies, a district heating scheme creates sustainable, affordable and environmentally sound energy. However, that alone is not a guarantee of realising your savings because how the energy is distributed can have significant financial implications on a business. It is vital that a district heating scheme is designed well and utilises highly insulated pipes as together these will ensure that minimal energy is lost during the transport from point of generation to the end user. This ultimately translates to more cost savings throughout the lifetime of the scheme.
 Combined with the potential cost savings to the end user, a district heating scheme is also used by local authorities to fight fuel poverty.
What are the advantages of district heating?
Lower capital cost per unit output for primary plant than for decentralised systems
Higher efficiency of heat generation and delivered heat
Greater range of fuel choice which also presents greater flexibility for fuel changes
Customers' maintenance burden is significantly reduced
Continuity of service is greater than for multiple heat sources
Supply heat to a wide variety of users
Assists in the efficient management of supply & demand for heat in an area
Lower labour and maintenance costs compared to multiple heating & distribution systems
Reduced risk as no fossil fuel boilers in each property
Key points to consider
High cost of distribution pipework so typically higher total capital cost
Efficiency can be lower for intermittently operated systems so sizing correctly is crucial
Large scale fuel deliveries & associated vehicle movements required for solid fuels
Improved fuel security
Large continuous space requirement for primary plant
Specialist maintenance operatives required
Extent of impact of a failure of key system pipework is considerably greater than for decentralised systems
What is a HIU?
Historically, multi-dwelling development schemes have incorporated individual heating units into each unit. With heat interface units (HIUs), a central boiler is installed to provide instant and reliable hot water and central heating to an entire complex 24 hours a day.
HIUs, as they are less commonly known in the industry as consumer interface units (CIU), act as a bridge between the central boiler and each dwelling, and make up a vital part to any residential district heating. This seamless integration with the central boiler not only allows the end-users to access affordable, sustainable heat, but for the developers or building owners to also meet the necessary requirements and compliance posed in the strive towards the use of zero carbon technologies.
Within a scheme, a centralised boiler sends hot water to other buildings. A HIU in each of these buildings gives all of the control and features at the point of use as with a full boiler system, but in a far simpler package. It is also pre-set and designed to conform to RHI regulations on meter placement, which forms the basis of easy measurement or billing for heat used.
How is HIU beneficial?
For your business
There are numerous benefits with a heat network incorporating HIUs compared to the traditional approach of individual heating systems within each dwelling. With no individual gas boilers in each apartment unit, this automatically reduces the risks associated with gas distribution pipework which in turn eliminates the need for individual flue terminals, saving the landlords on installation costs.
Because annual gas safety inspection typically only takes place in the plant room, landlords save a significant amount in not having each individual boiler serviced and inspected.
Councils and landlords with a large portfolio of buildings will benefit further from HIUs as meter reading and energy billing can be carried out remotely. With the reduction of gas consumption through central plant efficiencies, HIUs are able to play a vital role in tackling fuel poverty and providing warmth to priority groups.
In addition, occupants or tenants in each property is provided with a safe environment in which to live or work, where there are not only no annual safety checks, but also removing the need for carbon monoxide alarms, health and safety provisions or appliances at the point of use.
With all the benefits taken into consideration, biomass district heating is an advantageous solution for use in care homes, social landlords, hospitals, schools or any other applications where the owners, Energy Services Company (ESCO) or maintenance provider may have a legal duty of care and safety to building occupants.
For your environment
HIUs enable a simpler and more successful transition of low to zero carbon technology. In addition to that, a central scheme such as HIUs will help reduce gas consumption and increase overall energy efficiency which translates to an overall reduction in CO₂ emissions.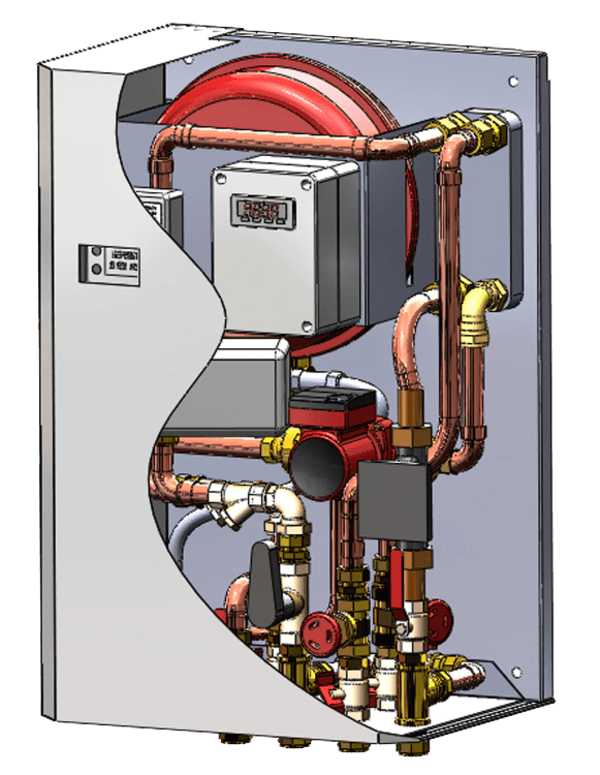 How can Treco help with district heating/heat networks?
Backed by years of experience of having successfully designed and installed a number of large district heating schemes, Treco has also been nominated a number of times and been highly commended as having delivered District Heating Project of the Year for its successful installation at Soho Member's Club. A combination of expertise, knowledge and experience as well as the flexibility of the system enables Treco to design solutions tailored to your needs.
Another large project was our district heating installation at Cofton Holiday Park, set on an 80-acre countryside. Due to the nature of the site, biomass district heating provided the best green energy solution for its 4,800 sq ft complex.
Some of our other successful projects include Perryfields, a 72 -unit housing development; the country estate at Mornacott Farm; the stunning wedding venue, The Great Barn, and not forgetting the private estate at Higher Combe.
Do you think a district heating heating scheme is perfect for your project?
Call us today and we'll be able to help you.