Dumbleton Hall Hotel
Biomass replaces old and inefficient oil heating system, reduces fuel costs and secures RHI payments
Key Facts
Location
Evesham, Worcestershire
Project included
2 x 99kW Guntamatic Biocom biomass boiler systems
2 x 1,500 litre thermal stores
Distribution pipework including internal connections to heat exchangers
Fuel consumption
Approximately 100 tonnes of wood pellets per annum
Fuel cost saving
Wood pellets: 20%-40% vs heating oil
CO² saving
Approximately 102 tonnes per annum vs heating oil
RHI payments
A project of this size would gain approximately £22,000 every year for 20 years, index linked to inflation
Total project cost
£110,000
ROI
4-5 years (combining RHI income & fuel cost saving)
Downloads
The Guntamatic Biocom boilers have helped us to massively reduce our fuel costs. Treco's project management was great and they even assisted Dumbleton Hall Hotel with gaining RHI accreditation.
Overview
Dumbleton Hall Hotel is a 34-bedroom converted 19th century Manor House set in 19 acres of parklands. The original Dumbleton Hall can be traced from around 1534 as the home of the Cocks family for over 200 years. After the death of Sir Richard Cocks in the late 18th century the Hall fell into disrepair and was eventually demolished.
Rebuilt in the mid 19th century using Cotswold stone, Dumbleton Hall became home to the Eyres family and in the 1930′s the Hall was well known for its popular house parties with regular guests including John Betjeman, later to become Poet Laureate, and the popular Mitford sisters.
During the Second World War the Hall was allegedly considered as a suitable alternative venue for the House of Lords. The Hall became a hotel in 1959.


The challenge
The owners were faced with escalating oil heating costs and wanted to both reduce their reliance on fossil fuels and reduce their CO² emissions. This would enable the hotel to keep the cost of providing high levels of guest comfort under control.
The brief to Treco was for the design, installation and maintenance of a highly efficient and fully automated biomass heating system. It would need to run on wood pellets and supply the hotel's total heating and hot water needs. The biomass boilers would need to fit into the basement, replacing the existing and inefficient oil fired boilers.
Fuel storage was to be located at ground level and automatically feed wood pellets into the boiler below ground level in the basement.
Our custom solution
Treco supplied and installed two 99kW Guntamatic Biocom biomass boilers. The boilers were installed in cascade, complete with two 1,500-litre buffer tanks and a fuel store with a capacity of 16 tonnes located in the stable block. Wood pellets are vacuum fed from the fuel store at ground level into the boiler below.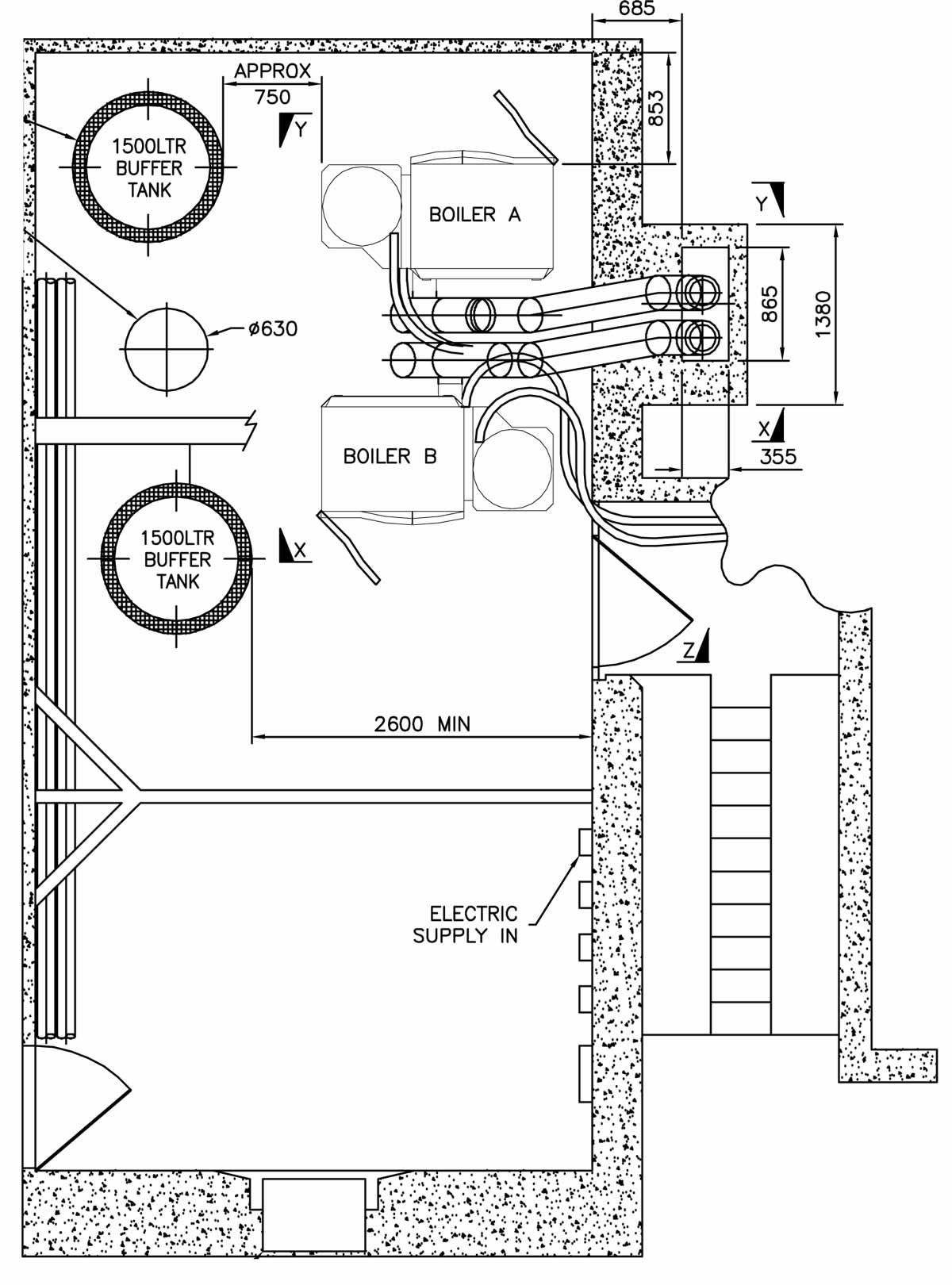 Project summary
Two top-of-the-range 99kW Guntamatic Biocom biomass boilers in cascade
Installation into the hotel's basement.
Fully automated fuel delivery system, wood pellets fed by vacuum.
16 tonne fuel store installed above ground level with 24m3 of fuel storage, ensuring only 3 fills a year.
Two 1,500 litre thermal stores.
Biomass boiler linked to existing heating and hot water system.
An RHI approved heat meter which records heat use in kWh with certification.
Assistance with RHI application including schematic drawings.
Commissioning, programming and end user training.
More details on this specific biomass boiler used on this installation can be found on the Guntamatic Biocom page, with further details of our entire range available through the biomass boilers page.
The incentive
A project of this size would gain approximately £22,000 every year for 20 years, index linked to inflation.