What is domestic RHI?
Domestic Renewable Heat Incentive (RHI) was launched on April 9, 2014, and is phase 2 of the government's scheme to reduce carbon emissions. Like the commercial scheme, it has been designed to drive forward uptake of renewable heat technologies in homes across the UK. This will reduce carbon, helping meet renewables targets and save money on fuel bills.
Who is eligible for the domestic RHI?
The scheme is open to anyone who can meet the joining requirements. It's for households both off and on the gas grid. Essentially, it is open to home owners living in the same property, private and registered social landlords and self-builders. Anyone who has installed an eligible renewable heat technology system since July 15, 2009 and meets the scheme eligibility criteria should be able to join.
What are the recent changes to the RHI?
In November 2015, the UK government renewed its commitment to the transition to a low carbon economy, by confirming a continued budget for the RHI out to 2020/21. Following a series of consultations from March-April 2016, the government finalised a package of reforms to the RHI schemes in December 2016. The General Election announcement delayed the plans to implement the proposed changes to the scheme.
Subject to Parliamentary approval, the changes to the scheme Regulations that were announced in the consultation response are planned to be introduced in two stages. It has now been decided that the government's raft of changes to its world's first Renewable Heat Incentive will be implemented on September 20, 2017, whilst declaring intentions for more of the proposed changes to follow later in 2017/18. These changes include: tariff uplifts for air source heat pumps (ASHP), ground source heat pumps (GSHP), and biomass plants; and the introduction of annual heat demand limits for ASHPs, GSHPs, and biomass plants. The changes being implemented includes new non-domestic biomass tariffs, new domestic tariffs, domestic heat demand limits, and provisions to extend these to anyone accredited since December 14, 2016. The amendments will also extend the scheme's budget management mechanisms until July 2018. 
The Department for Business, Energy and Industrial Strategy (BEIS) has subsequently announced that no tariff degressions will be applied to either the domestic or non-domestic scheme on October 1, 2017, with the next potential degressions being applied January 1, 2018.
Below is a table of the domestic RHI tariff as of April 1, 2018, along with the historical RHI rates: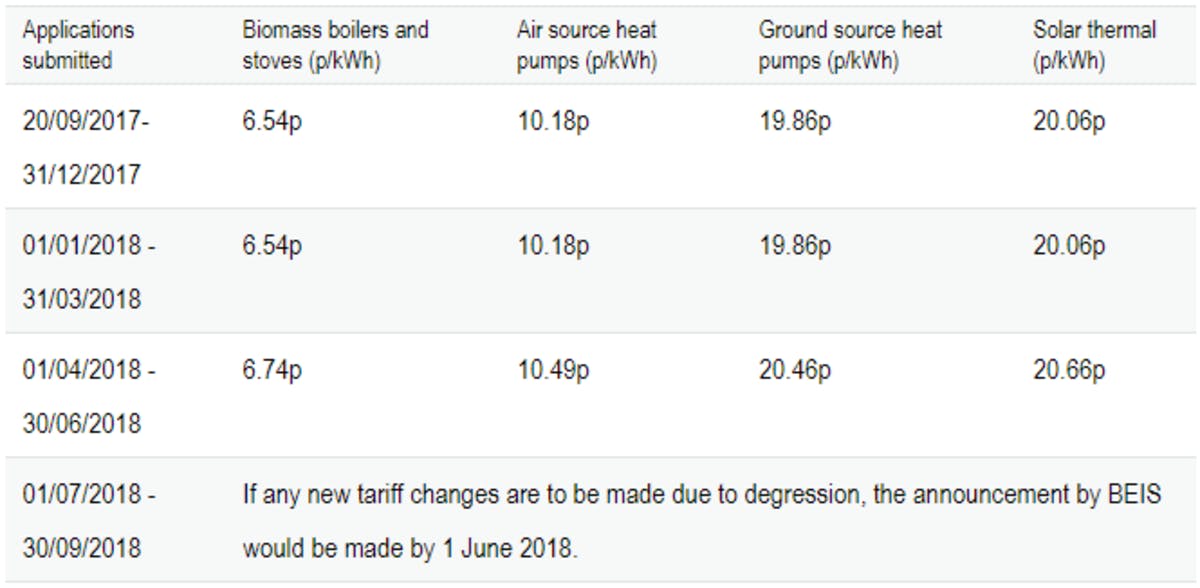 How do I calculate my payback?
The domestic tariff has been set at a level that reflects the expected cost of renewable heat generation for biomass over seven years. Payments will be made based on estimated (deemed) heat demand of the property.
Following the changes that have been implemented to reform the RHI scheme, domestic RHI payments for biomass was calculated based on unit payments of 6.54p per kilowatt hour (kWh) as of September 20, 2017. However, as of April 1, 2018 til June 30, 2018, the rate has increased to 6.74p/kWh. If any new tariff changes are to be made due to degression, the announcement by BEIS would be made by 1 June 2018. The figures are all index linked to inflation.
This is still deemed and based on customers' Energy Performance Certificate (EPC), but with a maximum of 25,000kWh per annum. Properties with heat demands above this level will be paid the same as if the property's heat demand were equal to the limit.
The EPC (view an example EPC here) is calculated based on an estimate that an average domestic heating system will be on for 1,314 hours of the year. Allowances are made for levels of loft and cavity wall insulation.
To calculate your payments, you multiply your EPC by 6.74p per kWh. If you haven't already got your EPC, we will be more than happy to give you an idea of the cost of installing a biomass boiler and the RHI payments you can expect. Just contact us.
Additionally, the Department of Energy and Climate Change will offer an extra, set payment of £200 per year where metering and monitoring support packages are required for biomass boilers.
What is an EPC?
An EPC or Energy Performance Certificate (view an example EPC here) essentially defines your property's heat load. The starting point is that your renewable heating system is in a property capable of getting a domestic EPC. The EPC is needed by Ofgem to prove that your property is assessed to be a domestic dwelling. Without one you are unable to apply to join the scheme.
In order to gain an EPC, applicants need to have completed a Green Deal Assessment. Applicants must ensure they have met minimum loft (250mm) and cavity insulation or solid wall insulation requirements where appropriate. Once the assessment is complete an EPC is issued as proof of domestic dwelling status, completion of energy saving measures and it will define the heat demand for the property.
Application process and Green Deal Assessments
In order to be eligible for the domestic RHI, you will need to have had a Green Deal Assessment, which analyses your property's home energy requirements. Download a handy checklist to help you prepare fully for the Green Deal Assessor's visit here.
Eligible biomass boiler heating systems
RHI domestic supports a range of renewable heating technologies including biomass only boilers and biomass pellet stoves with back boilers up to 45kW. Emission levels from September 2013 must be below a maximum 30g/GJ particulate matters and 150g/Gj Nitrogen Oxide.
All installations and installers must be Microgeneration Certification Scheme (MCS) certified (or certified by an equivalent scheme). MCS certified installers are currently required to be members of the Renewable Energy Consumer Code, which is backed by the Trading Standards Institute.
Covering upfront costs – Green Deal Finance
Householders can get help with the upfront costs of the renewable heating kit under the Government's Green Deal. The Green Deal lets people pay for energy efficiency improvements including renewable heating systems through savings on their energy bills and householders are able to take up Green Deal finance and claim the RHI payments. Householders who receive money under the Renewable Heat Premium Payment (RHPP) scheme of up to £2,000 for a biomass boiler will have this amount deducted from any future RHI payments to avoid a double subsidy.
Domestic RHI
We have prepared a series of documents to help you understand and navigate the domestic renewable heat incentive