Wood chip fuel store construction
A wood chip fuel store is usually built on a raised wood platform sloping away from the boiler. Wood chip fuel needs to be constantly stirred in order to aid movement. The wood chip fuel delivery system includes a mechanical 'agitator' within the fuel store. This is a circular spinning disc with four arms, which stirs the fuel into the auger for delivery to the boiler's combustion chamber.
The fuel delivery system, including auger and agitator for the Guntamatic Powerchip is included in Treco's boiler prices. Treco offer a range of auger and agitator lengths to give maximum flexibility in the location of boiler relative to fuel store. We also supply auger spacers in variable lengths up to 7m, for added on site flexibility in connecting to the wood chip boiler.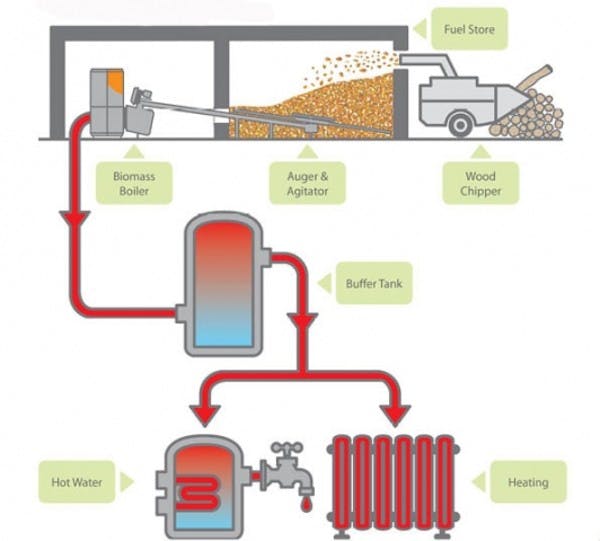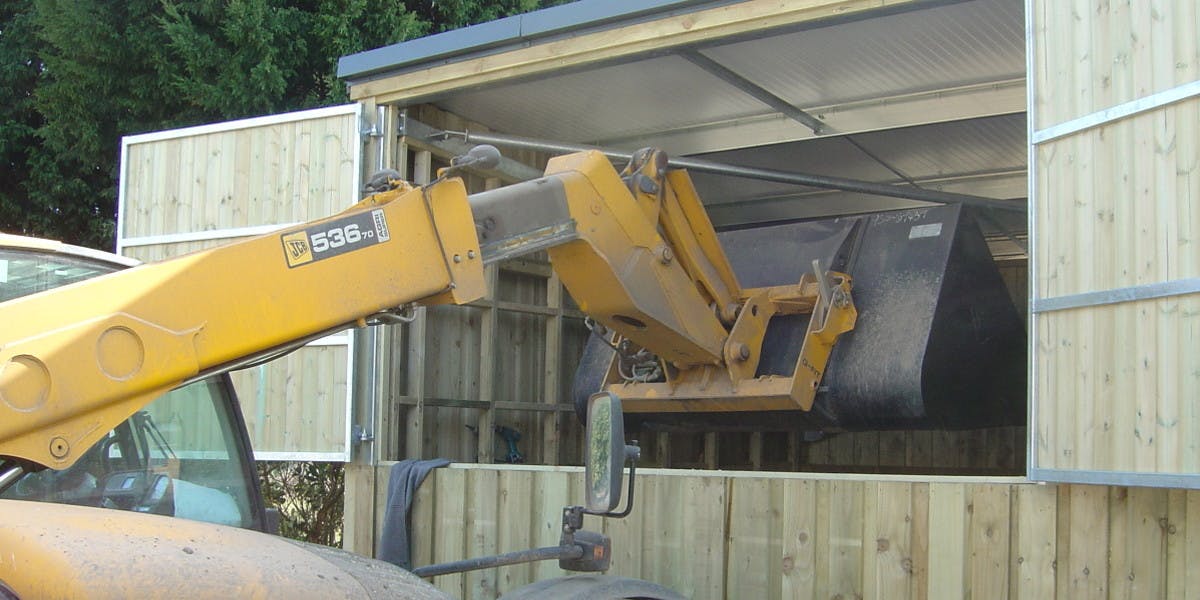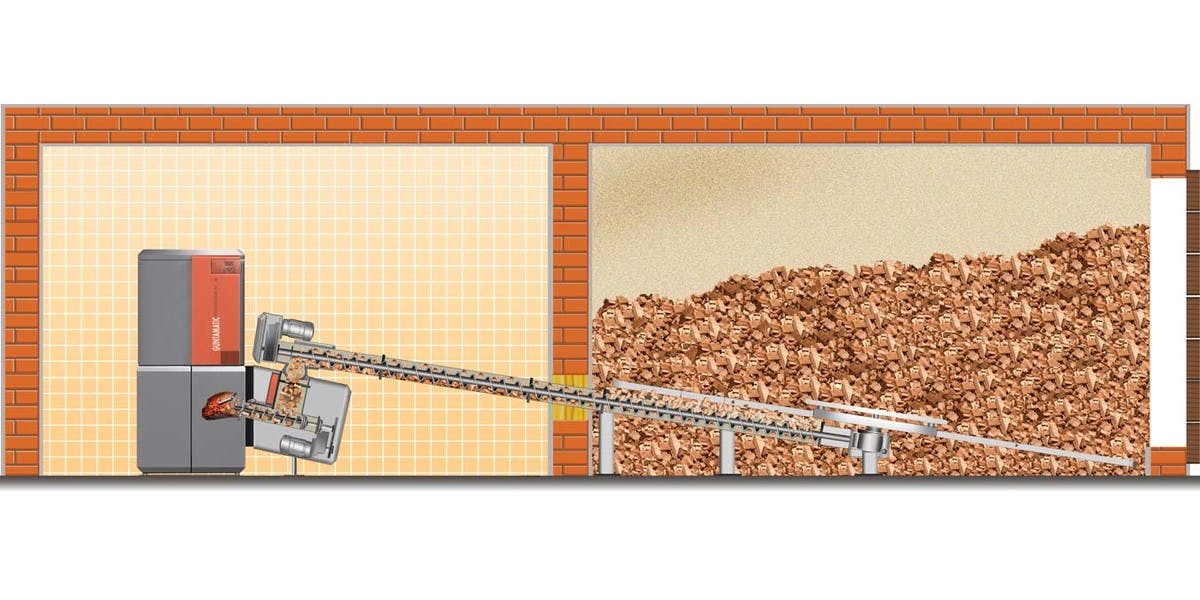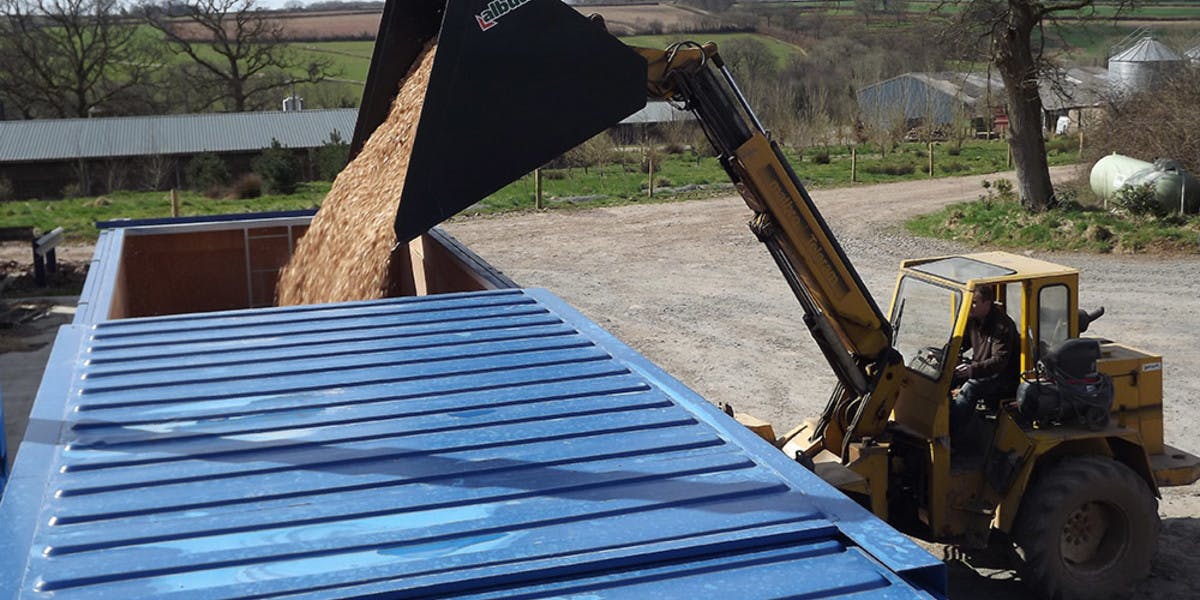 Wood chip fuel quality
To ensure the best performance in a wood chip biomass boiler, the quality of the fuel is paramount. It must be clean and free from contaminants, and contain no metal, stones, animal carcasses or other elements that may cause damage to the boiler or reduce its combustion efficiency.
Wood chips are a type of biomass fuel, made from seasoned wood with a maximum moisture content of 30%. Fuel grade wood chips for use in the Guntamatic Powerchip should be to G30 or G50 Fuel Standard.
Wood chips are a cheaper form of biomass fuel than wood pellets. They offer a 50% saving versus oil, if bought in, However, the largest savings are being made are by those who have access to their own wood fuel, which they then have contract chipped once seasoned. In this case, savings of up to 80% are achievable. On the downside, wood chips take 3.5 times more storage space than pellets, as they are not as dense.
Wood pellet fuel store construction
A wood pellet fuel store needs to be on a flat, even and solid base. The structure that it is built within needs to be substantial in construction and weatherproof. It also needs to be lined internally to prevent moisture creeping in and dust escaping.
Wood pellets flow freely because they are of a small, uniform size. The high pressure of the pellet press causes the temperature of the wood to increase and the surface of the pellets form a natural 'glue' that holds the pellet together. This also gives wood pellets a shiny surface and eases their movement through a biomass boiler.
A smooth sloping angled surface is usually built at the base of a wood pellet fuel store. This is usually constructed in a V shape so that the fuel drops into the auger which is located centrally and which delivers fuel into the boiler. Treco usually build the 'V' shape from tanalised plywood, which is fast and cost effective to construct and with each side of the V at a 35˚ angle. Some other considerations related to construction are shown on the labelled diagram above.
On delivery, pellets are usually blown out of a delivery vehicle through vacuum tubes, directly into the fuel store.