Treco is keen to promote locally sourced wood fuel and we have written a few articles on the subject! We also support the most efficient use of our woodland resource and bringing both small and large woodlands back into active management. A great example of local wood fuel production is that of the Dartmoor Woodfuel Co-operative.
Founded in 2009 as an Industrial Providence Society, the Dartmoor Woodfuel Co-operative is a not-for-profit collaboration between local woodland owners and biomass boiler owners. It is also a means of improving woodland management, reducing carbon emissions, raising public awareness of renewable energy and encouraging eco-tourism. 
The co-operative is centred on Brimpts Farm in the centre of Dartmoor between Princetown and Two Bridges.  As well as a working farm, Brimpts is an outdoor pursuits and conference centre and hosts an award-winning tea room.
Brimpts Farm has long been a biomass boiler champion. A combined initiative between Andy Bradford from Brimpts Farm and the late Digby Trout from Higher Combe (one of Treco's very first customers) led to a cluster of biomass boiler owners in the area. A number of these have their own woodland and came together as the Darmoor Woodfuel Co-operative to produce wood chips from locally sourced Dartmoor timber.


The Co-operative has its own Heizohack HM4-300 drum chipper, which attaches to the rear of a tractor and can process roundwood up to 30cm in diameter. Chipping at Brimpts is undertaken directly into their biomass boiler's fuel store for ease of fuel handling. Deliveries to customers are also either chipped direct to fuel store for those with their own woodfuel supply or via tractor and trailer with an inbuilt blower unit for those without. Since 2009, around 20 boilers are now supplied. This totals over 2MW of installed capacity and includes a number of Treco installed and supported boilers.
You can also watch a video of the Dartmoor Woodfuel Co-operative in action.
As the Dartmoor Woodfuel Co-Operative has grown, it has taken on more employees and part of their recruitment is through the Forestry Apprenticeship. Funded by the Forestry Commission and run by the Silvanus trust, the Forestry Apprenticeship is helping deliver the next generation of skilled workers to take both the Forestry and wood fuel sectors forward. 
As part of our support of and contribution to Grown in Britain week, Treco is funding an Apprentice at the Co-operative called Alex Edwards. Our funding is helping Alex to undertake additional courses in wood fuel production in order to add to his skills.
As well as the damp climate on Dartmoor mentioned earlier, the surrounding foothills can be steep and the valleys quite wet and boggy. This makes the use of machinery for wood fuel harvesting difficult.
A member of the co-operative is a Treco biomass boiler customer. The Great Barn is a holiday complex and conference facility featuring a magnificent 15th Century thatched barn which is in great demand as a wedding venue. John and Emma at the Great Barn have their own woodland but steep approaching slopes make mechanised extraction difficult.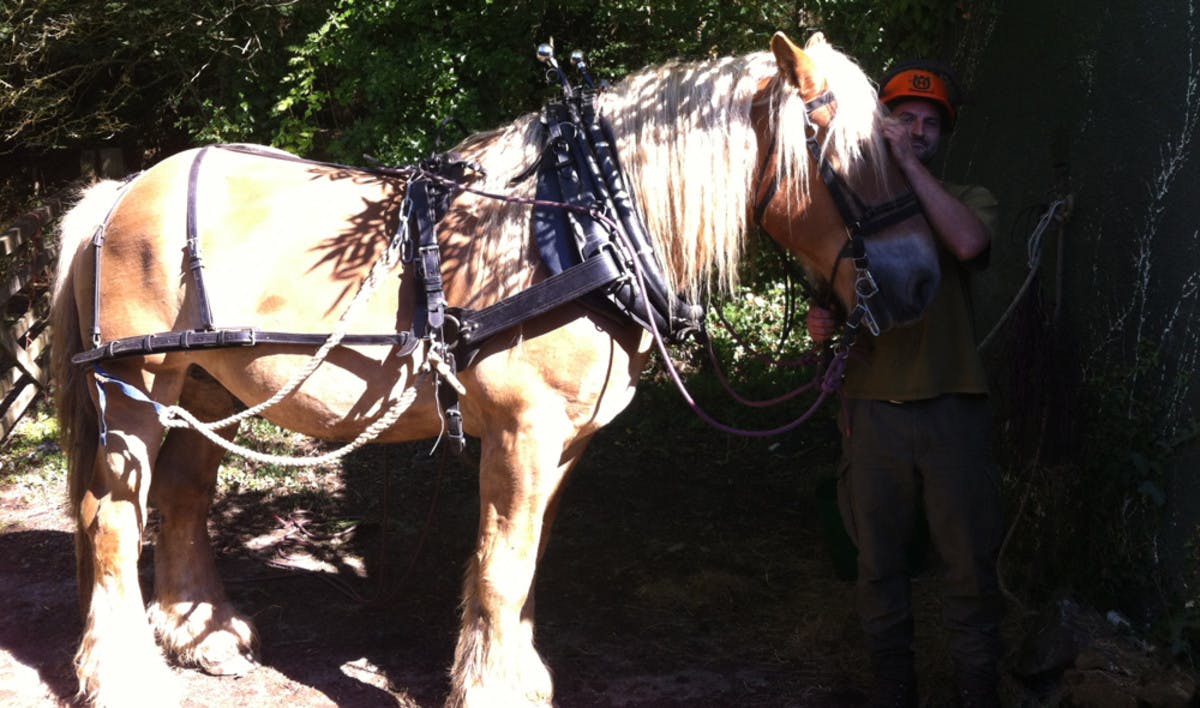 Traditional horse logging –featuring 'Yentz the horse', has been adopted to overcome this and is proving to be a great success. Over short ranges, horses can be very effective and can haul timber over soft, boggy ground as well as the steeper ground where machinery cannot reach.
Their example is however at the forefront of success and is paying a valuable role in the economic development of the local area in Dartmoor. Whilst this model fits the unique circumstances of Dartmoor, there are many common lessons and principles that can be learned and re-applied elsewhere.