There are a number of reasons why you would or should consider a containerised solution when considering a biomass installation.
Biomass boilers can occupy more space than the equivalent fossil fuel boiler and the addition of a fuel store can further increase the footprint required. Having an expansive space to utilise when considering a renewable energy solution like biomass can be a luxury to most. But it needn't stop your plans of owning a biomass system. This is when containerised solutions works its magic.
In many cases, an existing boiler room or building has to be adapted and/or extended to accommodate the new biomass system, or a new boiler room and fuel store construction is required. An alternative approach is to consider utilising a containerised solution. 
Or when a site may have an uncertain future, as many large sites undergo change of use through its life. A containerised solution is movable to another site, and along with it, the commercial RHI payments, for the remaining 20 years, if eligible at the new site.
Flexiblity
Containers have a number of particular advantages. They provide an integrated boiler room and fuel store, laid out to achieve maximum operational efficiency. Fitted out at our premises not only enables the highest quality control, but also ensures minimum project lead time to be achieved for delivery to the customer.
The equipment inside the container is thoughtfully laid out to facilitate operation, use and maintenance. It is also much easier to adapt a customer's site infrastructure than it is to build a whole new boiler room. A containerised boiler room requires only concrete plinth seatings to support it, electrical power and mains water connection, as well as connection to the building/site heating system, either directly or via underground heat main.
The containerised plant room can be installed on any suitable space onsite, and connected into the heating infrastructure. Time to install and commission onsite is greatly reduced, which is important when site usage and impact is considered, especially for the likes of a busy school, where major works are ideally undertaken outside of term time, or a holiday park when term time is best suited for the business.  A containerised boiler room and fuel store shell is much cheaper than a purpose built room, and it can be clad/screened (as well as painted) to blend in with the environment. Alternatively it can be positioned completely out of the way.  As a temporary structure, planning issues can be easier to overcome too.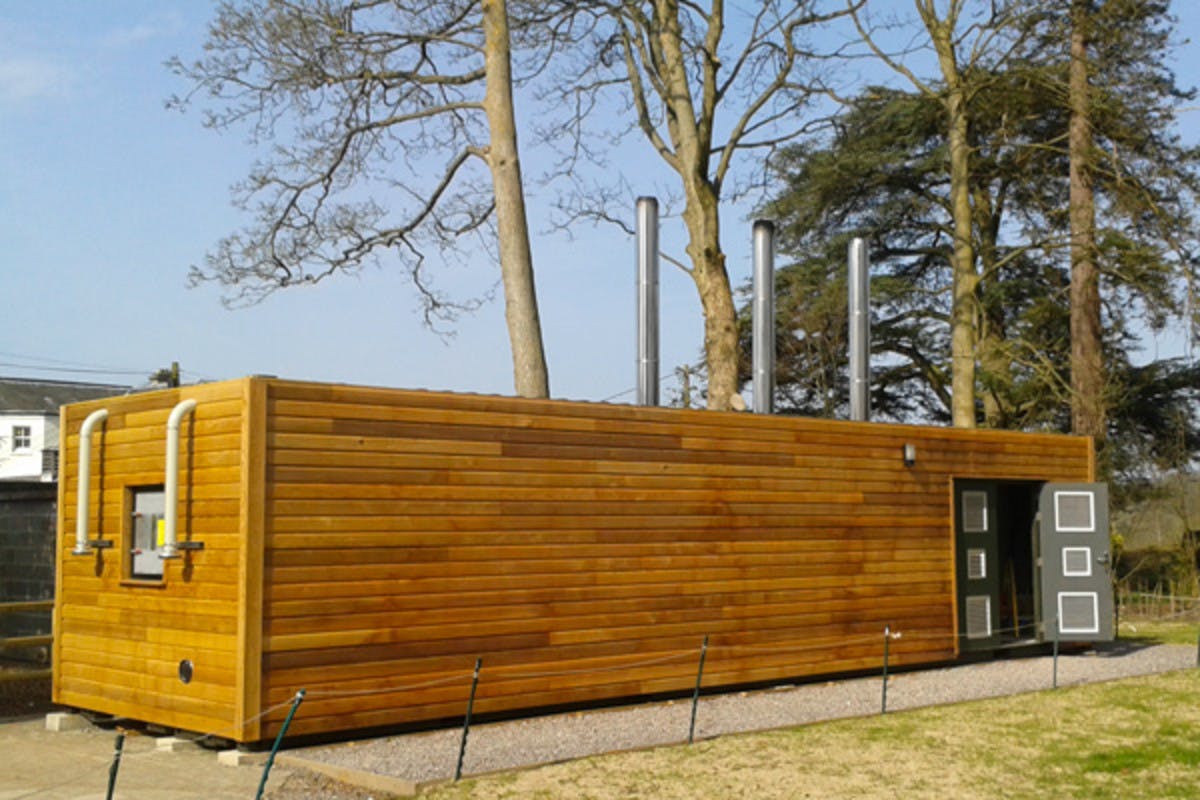 Turnkey solutions
Biomass heating systems invariably require turnkey solutions. It is important to design the overall system to meet the clients' heat requirements as efficiently and economically as possible.  Each containerised boiler room and fuel store can be tailored and optimised to an individual clients' specific requirements. The designs are based around a standard ISO container. These are already ruggedised for shipping, liftable by crane and transportable by road, meaning that no adaptation is necessary to transport the containerised boiler room from the point of construction to the installation onsite.
For a site being developed in phases or stages, or split into zones of activity, a containerised unit can be plugged into the next zone or phase of development when it is needed. This negates the cost of building and running a single large scale boiler room at low output and higher cost in the initial development phase, when cost control is critical.
Containerised solutions are built around a modular design and can be used to house bespoke configurations. Treco can supply solutions with the biomass boiler, fuel store, buffer tank(s), expansion vessel, system pumps, pipe work and all electrical connections pre-fitted along with lighting and a range of optional extras including additional doors. Heat meters can also be pre-configured and installed ready to use along with flue systems either through the side of the container or through the roof.
A sliding roof allows the fuel store to be viewed from above, in order to measure fuel levels or to enable a delivery to be tipped directly inside. Alternatively, there are vacuum tubes for taking pellet deliveries or wood fuel can be contract chipped directly into the fuel store. Having the biomass heating system pre-fitted makes Treco's containerised solutions versatile, fast and easy to install on site, as they just need to be positioned onto a concrete base on site, with only the main connections to the site's plumbing and electrics to fit, along with underground insulated pipe runs to connect any additional buildings. All of our containers have single to three phase converters, where required.
We are able to supply from a 20-foot high cube (6m long) to a 40-foot high cube (12m long) containerised solutions (as standard) all of which are 2.9m high and 2.44m wide. Treco's containers can also be supplied one stacked onto the other or as the 'Fat Boy', which is a container made specially wider.
Our containers are supplied with the internal space and external walls pre-painted with a range of colour options, with 3mm hard wearing checker plate floors and a number of options for fuel type and delivery. The fuel stores should be kept clean and dry with no stones, metals or other contaminants that may affect the performance of the biomass boiler system. For RHI purposes, containerised solutions can be extremely beneficial to the client.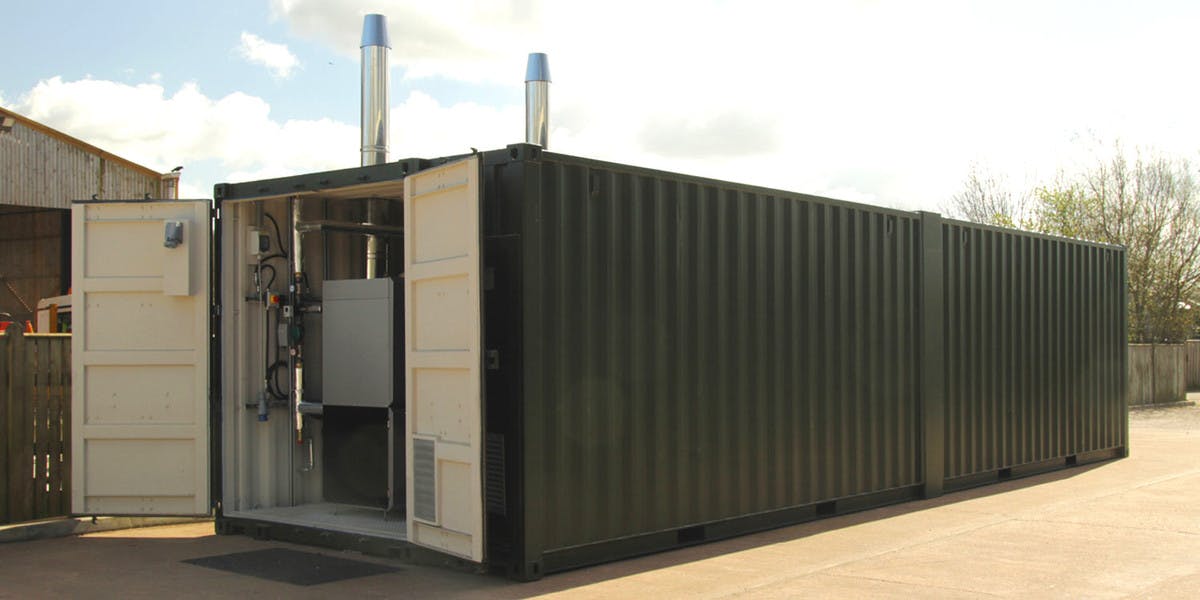 Overcoming challenges
Menchine Farm produces poultry, with standard cycle times of production centred on individual units of chicken sheds.  Each 'unit' of one or two sheds is supplied by a single containerised biomass boiler. The containerised solution was fitted during the turnaround time between production cycles, minimising interference to the customer and avoiding any loss of production and output. For this project, three containerised boiler rooms and fuel stores, each with a 100kW Guntamatic Powerchip boiler were supplied.
At the Welsh Wildlife Centre, we were presented with a different challenge.
There was space for a biomass boiler in the existing boiler room, but not for the fuel store. However, there was space for a containerised fuel store.  Producing a containerised boiler room and fuel store would have wasted the available space in the existing boiler room, but by putting the biomass boiler in the existing boiler house enabled the containerised fuel store to hold a greater volume of fuel. This basically meantthat the refuel interval could be extended: important as the site is open to the public, and a greater re-fuelling interval minimises disruption to site operation. As part of this reason, the customer did not want hook-bin based delivery due to the time it would take to change over along with the spaces constraints onsite. A 50kW Guntamatic Powerchip 40/50 boiler was installed, along with a containerised fuel store.
Meare Manor Hotel, in Somerset, presented us with the opposite challenge to Welsh Wildlife. There was no room in the existing building for a boiler room and fuel store, but instead there was an ideal space for a containerised solution in a screened area of the garden at the rear of the hotel where the existing oil tanks were housed. The customer was also keen to minimise the number of re-fuelling required too. It was identified that the space between the container and the hotel could contain a small enclosed room, housing the thermal store. By doing this, we could remove the thermal store from the boiler room and extend the fuel store.  This made use of all available space very efficiently and effectively, and matched exactly the client's requirements.
Earsham Hall in Suffolk is a former stately home now used as a conference and wedding venue, as well as for business units. The stables and courtyard house a number of small businesses and a tea room. The total heat load of the site was high, and matched by utilising a cascade (pair) of 99kW Biocom boilers and 3000-litre thermal store. The client again wanted to maximise fuel store size to achieve sufficient fuel store volume which will ensure that they could take a 'full load' from the delivery vehicle (blown pellets) at each re-fuel, whilst still retaining a reserve of fuel for site operation. To meet this requirement, a 40' extended width container was manufactured and shipped to site, and craned into the courtyard, where it is discretely tucked away.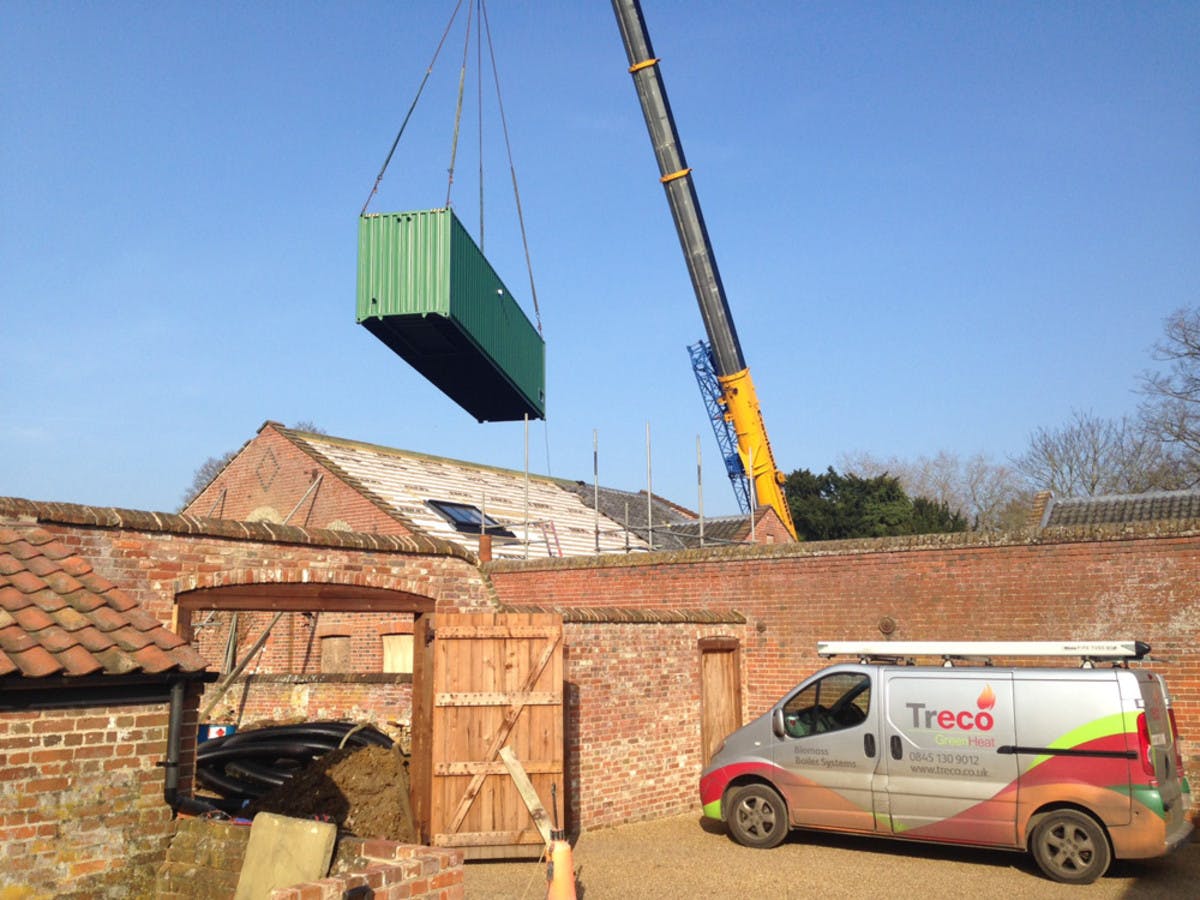 Containerised solutions offer flexibility of design, and the ability to fit biomass where there is a limited, or no possibility of building or adapting space for a boiler room and fuel store. They provide a very cost-effective solution, and, with minimal time onsite for installation and commissioning, are far less disruptive to site activity.
So if you are keen to speak to us about a bespoke biomass containerised solution, get in touch with us or leave your details below and we will contact you instead.