Treco supplies the Guntamatic range of biomass boiler systems, with heat output ranges from 12 to 100kW in single unit.
These systems will burn a range of fuels, from logs to wood pellets, to wood chips as well as grain and miscanthus.
As Guntamatic has been designing and manufacturing biomass boilers for over 50 years now, they have the process so well refined that their boilers are some of the best quality on the market.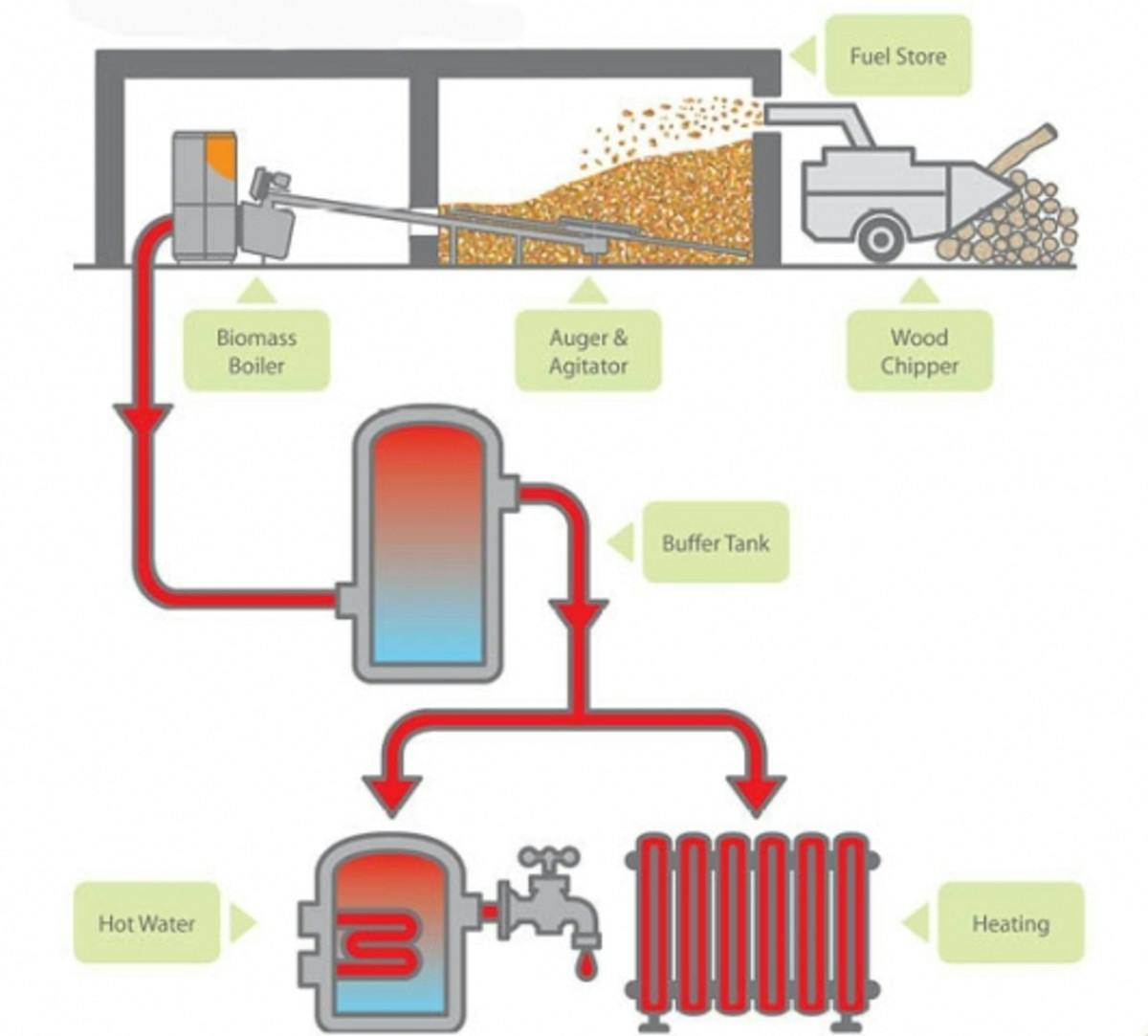 How biomass boilers work?
However, successful biomass is not just about having the right boiler – it is a system design process, and each solution is invariably bespoke, dependent upon the client's specific user requirements.
This is why that as well as supplying biomass boilers, we'll produce detailed CAD designs and then project manage and install your complete biomass boiler heating system from start to finish.
So how does this process work? 
We'll buy the right plumbing and electrical components at competitive prices, along with any other biomass heating products or services your project's specification requires.
Heat demand and profile 
First and foremost are both the heat demand and profile of the heat i.e. the total, or peak heat demand of the proposed site, and the distribution, or profile of heat being used. This will depend largely on the type of use of the building.
A school, such as Shebbear College in North Devon, might have a very different heat profile to a hotel, like Friar's Carse in Dumfries, or a hospital such as South Petherton in Somerset. 
For example, a school might have long periods during the evenings, weekends and holidays where the buildings are empty. A hotel or hospital might have a fairly flat heat profile, with a comfortable background temperature being required around the clock.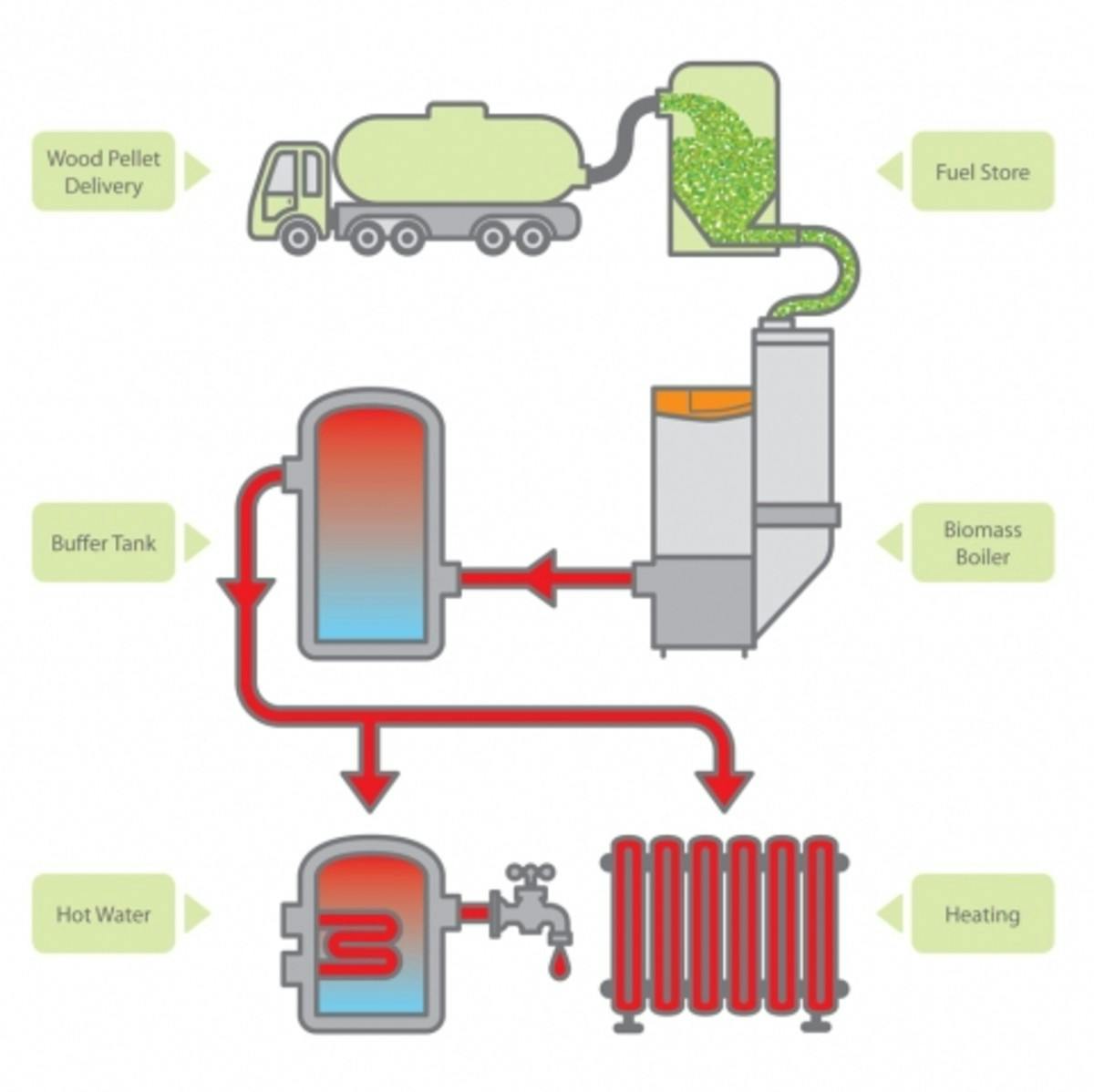 Boiler and thermal store sizing
The heat demand and heat profile then help us to determine the boiler size, and associated with it, the thermals store sizing. A thermal store (also known as a 'buffer tank' is a large hot water reserve. This acts as both a buffer and an accumulator, acting as a battery or reservoir of heat to smooth the demand and ensure supply of heat to meet the user's profile.
Flue system design
In addition, flue system design and sizing is also paramount to the development of a well-working system. Achieving the correct flowrates is essential for clean operation, and integral to efficient combustion in the boiler and the avoidance of smoke and fly ash.
Fuel type and fuel store size 
Both fuel type, and the fuel store size, are the key to keeping through life costs to an absolute minimum. Get this wrong, and you'll considerably increase your through life costs unnecessarily, and it's costly to fix. We always recommend engaging potential suppliers to visit the site at the concept stage to make sure that all practical considerations from keeping the fuel dry to there being easy access for a fuel truck and space for it to turn.
Hydraulic system design
As a next step, hydraulic design, and ultimately pump sizing and control is essential for the efficient transfer of heat and control of the system, to ensure heat is moved efficiently to the point of use when required.
Underground heat main
This issue becomes much more critical if an underground heat main is used, and whilst these mains are inherently low loss and efficient, heat transfer over long distance can become significant if the system is incorrectly designed.
Heat interface
The final major issue is the heat interface to the building or buildings to be supplied. This is managed either direct to a single building installation or via a plate heat exchanger to each building in a district heating network.
We incorporate the main interfacing elements of the heat exchanger, interface to building heating controls, and the heat meter for both gaining RHI payments and the sale of heat purposes into a single unit the size of a combi boiler.
Conclusion:
Boiler – Pumps –Pipes – Interfaces
To sum it up, it's all about the right system design, adhering to national standards and thinking through the whole solution with the client from the Woodland to the Firebox
In summary, a well designed biomass heating system comes down to good design in four key areas:
The right sized boiler
The right sized pumps
The right size of pipes
The right interface
It's all about each part of the system individually and collectively delivering the right amount of heat so that the customer has no negative experience from biomass. Contact us to discuss the best approach for including biomass in your project.
For more information on any of the systems in our range you can also refer to our biomass boilers page.