We have just launched the all-new Guntamatic PRO range of biomass boiler heating systems onto the UK renewable heating marketplace!

The Guntamatic PRO  is a range of versatile, high efficiency biomass boilers which run on ENPlus 1 or 2 wood pellets  or G30 and 50 wood chips.
The range offers heat outputs from 175-250kW with a single unit. The Guntamatic PRO therefore complements and extends the high quality and successful Guntamatic range of biomass boilers, giving Treco a range of solutions from 7kW to one Megawatt.

Treco has fitted over 600 biomass boiler heating systems nationwide in the United Kingdom since inception in 2005. The launch of this new range takes us further into the Medium Commercial Biomass Sector, defined by the Renewable Heat Incentive as 200-1,000kW.
At this scale, there are some subtle variations in system design and performance, and in the nature of heat loads and demand they supply.

First and foremost, fuel storage and handling becomes increasingly important. As the heat demand, or heat load increases, then the amount of fuel required to produce the heat increases accordingly. 

Under-sized fuel stores will become exhausted relatively quickly  and there is a danger of incurring excessive through-life cost from frequent deliveries. This can become a major limiting factor in a biomass boiler heating system's project success.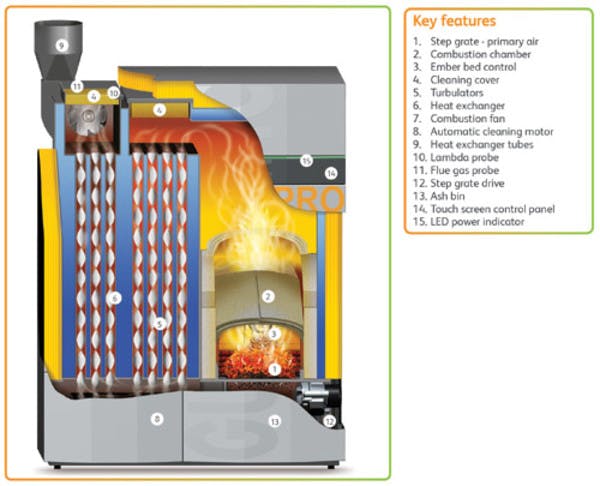 Designing a system with a fuel store that can take a large fuel load, involving the largest possible delivery vehicle at the 1MW end of the range makes a significant difference in performance and whole life system cost. Sufficient space must be allowed for the fuel store and for the logistics of supply. This needs careful thought to ensure adequate road access, turning circles for the delivery vehicle, space to align it with the store for filling and enabling easy departure from site. 

Fuel handling within the store also starts to become subtly different. At the lower end of the kW scale, the auger and rotating agitator are the predominant technology of fuel delivery for wood chips.

As fuel store size increases, hydraulically-driven 'walking floors' can be incorporated. These are essentially two shuffling ladder-type scoops that push wood chips forward to one end of the fuel store. This type of fuel store and fuel delivery system can fit into rectangular or square fuel stores, eliminating dead space and making very good use of the available space. This can be a very cost-effective option. 
Biomass boiler systems from 175kW to 1 Megawatt are clearly suited to projects. These could include large stately homes, sports centres or hospitals, large-scale district heating schemes (incorporating mixed use buildings – houses as well as infrastructure) shopping centres, schools and colleges, leisure facilities, health centres and libraries.

A single large biomass boiler is not the only option, however. The same principles of heat demand, load and profile, remain very important, and sizing for both considerations needs careful design.  A bigger boiler does not necessarily reduce the need for either a back-up, or base load boiler. 

The newly introduced PRO range of boilers from Guntamatic offers a range of modular options up to 1MW, starting at 175kW. This overlaps the range of cascaded Powerchip and Biocom boilers, and enables Treco to offer a turnkey solution to meet most potential client's individual requirements across a much broader range. 
A potentially large scale biomass boiler system must be designed as accurately as a small scale biomass boiler system, for the project to perform consistently well,  be cost effective and deliver value for money. A biomass boiler is but part of a complete biomass boiler heating system. The collective performance of the individual elements within it (such as the thermal store) gives the overall system its performance characteristics.   It's a well proven design methodology, and one we've honed with over 600 installations to date.
To find out more about this particular system visit the Guntamatic PRO pages, with details on all the systems in our range found on the biomass boilers page, get in touch today.