What are wood chips?
Wood chips are small pieces of wood which have been through a chipper to produce suitably sized fuel for wood chip boilers. If owners have their own fuel supply then wood can be chipped directly into the fuel store. If wood chip needs to be purchased in then it must be from an approved company on the Biomass Suppliers List (BSL) who will deliver the fuel to site. As well as the significant environmental benefits over heating with fossil fuel, wood chip burning is also much cheaper and will typically save you over 30 to 50%. More information on wood chips can be found in our fuel section of this website.
What are wood chip biomass boilers and why choose one?
Wood chip biomass boilers are simply boilers that can be run by burning wood chip. Due to the type of fuel feed delivery system, the majority of these systems are classified as "multi-fuel" as they are also able to run on pellets, and in some cases energy crops like grain, though the vast majority are run on chip. This gives owners great flexibility as well as security as multiple types of fuel can be used in the system.
Much like the commercial pellet systems, wood chip boilers have a bulk fuel store which allows them to be automated and removes the day to day interaction that is required with log boilers which require frequent fills by the owner. In the majority of cases the main body of a wood chip boiler where the combustion process takes place is almost identical to their wood pellet counterparts. They do however differ greatly in the fuel delivery system that transports the fuel to the wood chip burner. With chip boilers there is an auger that runs straight from the boiler into the centre of the fuel store. There is a hub in the centre of the fuel store with 2 arms that stretch across the diameter of the store which are called agitators. When the boiler has a requirement for fuel both the auger and the agitator arms turn, with the latter pushing the fuel into the auger which then takes it to the boiler.
Due to the bulk density and calorific value, a given volume of wood pellets will hold around 3.5 times the energy of the same volume that chip will give. This means that larger fuel stores are required with chip systems, so overall the installation will typically take up more room than a pellet one.
If owners have their own fuel supply then wood can be chipped directly into the fuel store after it has been seasoned. If wood chip needs to be purchased in then it can either be tipped in front of the store then transferred in by on site plant such as excavators or even via a trough and auger system. In some cases the larger fuel delivery companies can also do blown fuel deliveries, though there can be an extra cost associated with this.
Most modern wood chip biomass boilers will be over 90% efficient, sufficiently higher than conventional fossil fuel systems which will typically be 70 to 80% which helps add to the fuel savings. They are also far more environmentally friendly and can significantly reduced your carbon emissions in comparison to using a fossil fuel alternative for heating.
If wood chip is being purchased in then it is typically 30 to 50% cheaper per kWh than oil and 20 to 30% cheaper than wood pellets. Along with the potential for fuel savings, having a wood chip heating system can make you eligible for the the government's Renewable Heat Incentive (RHI) which pays you to generate renewable heat for 20 years. These two combined can typically see the capital expenditure for a project paid back in around 5 years, with large gains then seen over the remaining lifetime of the installation.
The main boilers which we sell with this feed system are the Guntamatic Powerchip (50 to 100kW) and Pro (175 to 250kW), as well as the Froling T4 (24 to 150kW), TX (200 to 250kW), TI (350kW), Turbomat (150 to 500kW) and Lambdamat (750 to 1,500kW).
More information about biomass boilers can be found on our Biomass Boiler page.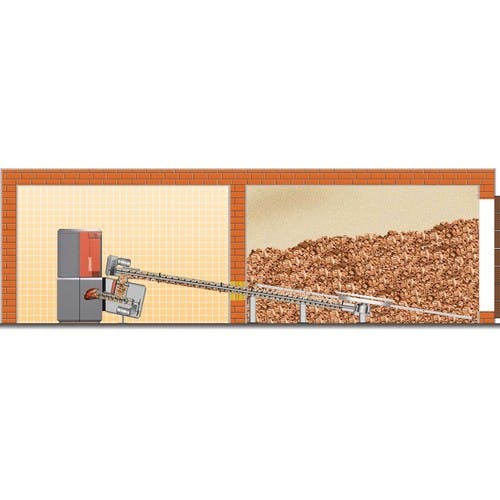 Auger and agitator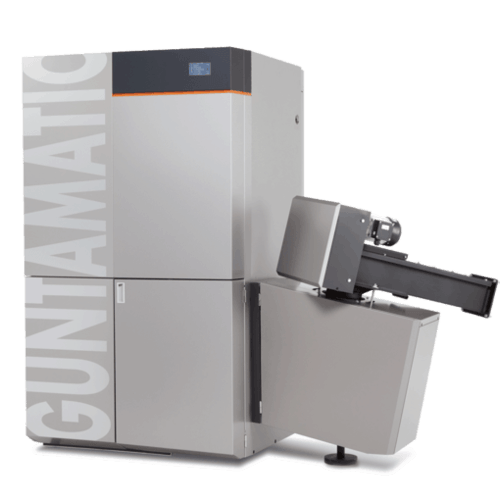 Powerchip 100kW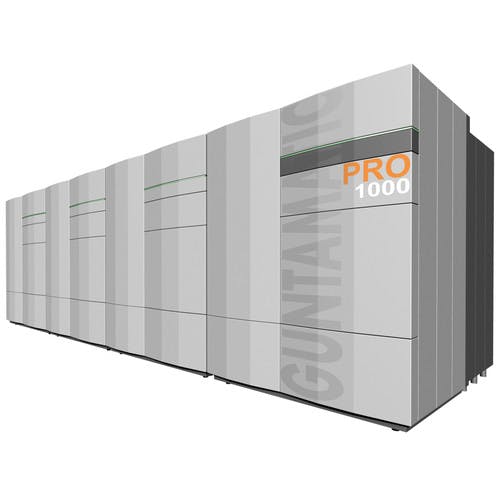 Pro 250kW
Waste wood
Using waste or recycled wood chip in biomass boilers can increase fuel savings even further as well as helping some companies benefit by the removal of disposal costs. The combination of both of these along with RHI payments can see the capital expenditure paid back as quickly as 2 to 3 years.
Waste / recycled wood chip can be purchased through some fuel supply companies at a lower cost than virgin chip. For a number of companies though part of their day to day running waste wood is created that needs to be disposed of, and it is in these cases where the greatest financial returns are made.
In some cases wooden pallets are available which can be chipped into fuel to be used in a wood chip burner. Here 500 pallets would equate to around 35,000kWh or 3,500 litres of oil. Other businesses produce substantial amounts of wood waste like furniture manufacturers. For some businesses they might have a sufficient amount to cover their heating requirements completely, and for others it will cover a significant portion with a small amount of additional chip having to be purchased in.
Not all wood chip boilers will be suitable for burning waste wood, so it is important to ensure that the biomass system chosen is suitable for the application and can burn the material whilst meeting the required emissions limits. To meet the required limits additional emission abatement technology may be required in some instances such as ceramic filters or lime and urea injection. Typically the more heavily treated the wood is, the more emission abatement technology is required and the more expensive the installation will be. This though is counterbalanced by disposal costs being higher for more heavily treated wood, so the savings made will quickly payback the additional capital expenditure.
All waste wood (other than virgin sources such as forestry operations) comes under waste controls, and to burn it either a permit or an exemption is required. If the waste wood is untreated and certain conditions are met in terms of boiler size and the amount of fuel being burnt then a simple U4 Exemption is required. If the waste wood has been treated or the other conditions of the U4 Exemption cannot be met, then an Environmental Permit from either the Local Authority or Environmental Agency is required. If the wood waste contains hazardous materials such as heavy metals or halogenated organic compounds then the Waste Incineration Directive (WID) applies and the appropriate permit must be sought.
The main boilers which we sell for use with waste wood are the Froling TX (200 to 250kW), TI (350kW), Turbomat (150 to 500kW), Lambdamat (750 to 1,500kW), and the Uniconfort EOS (230 to 5,800kW) and Global (350kW to 30,000kW).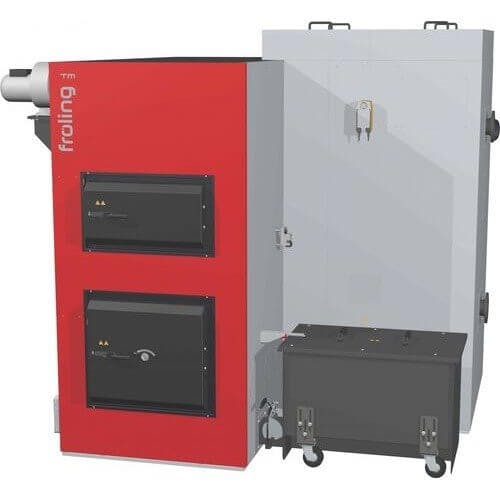 Froling - Turbomat
Grade A and B wood waste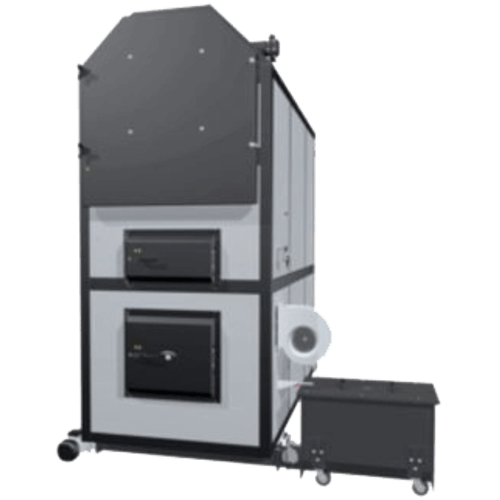 Froling - Lambdamat
Grade A and B wood waste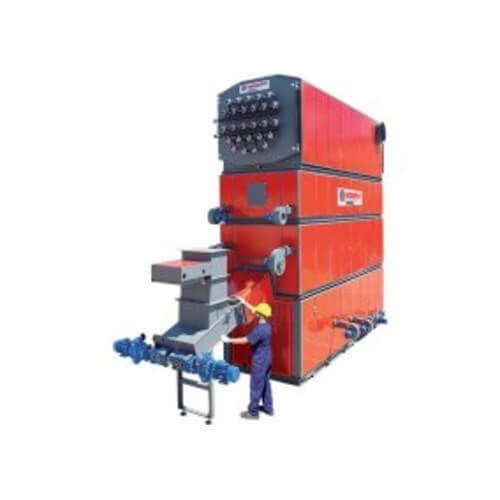 Uniconfort - Global
Grade A to C wood waste
Our installations
With over a decade in the industry we have a wealth of experience having installed hundreds of chip boilers ourselves, as well as supplying them to trade to other biomass boiler installers and supporting them with their design and installation work.
Projects we have worked on range in size from a 25kW single domestic installations, to 1MW sized boilers for industrial process drying, large district heating schemes to provide the heating and hot water requirement for 72 houses on an estate, as well as industrial boilers utilising waste wood from furniture manufacturers.
Below are some case studies for a selection of some of our chip boiler installations: