Guntamatic Biocom
There are many features and benefits of a Guntamatic Biocom 75kW/100kW biomass boiler.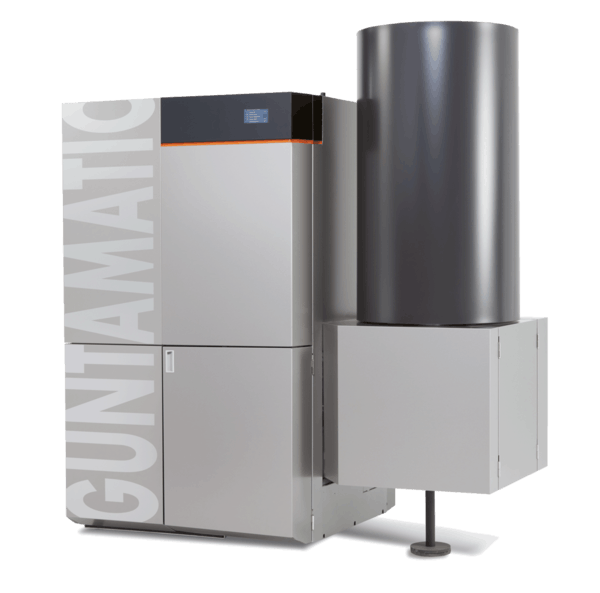 Highly efficient combustion
The wood pellets are gasified on the industrial step grate, where primary air is supplied at an ember bed with a temperature of around 800 °C. The amount of combustion air and fuel charge is regulated by means of a lambda probe, so that the system achieves a level of efficiency of up to 94% with an output of 26%-100%. This ultimately leads to reduced fuel consumption, more heat for your money and a more complete burn. With the aid of secondary air, the generated combustion gases are cleanly and efficiently converted into energy in a large rotating combustion zone. The Biocom's emissions have been measured as significantly below the maximum emissions set out as a requirement for the RHI.
Cleaning has never been easier
Conventional pellet heating systems still require regular cleaning. The Biocom system, on the other hand, cleans the heat exchanger and step grate (with the exception of a general clean-up) automatically. In addition, the Biocom's large ash boxes reduce the remaining cleaning effort to a minimum. With only 0.5%-1% ash to the volume of fuel, means you'll only need to empty the ash bin every six to eight weeks.
Storage
Guntamatic storage systems operate with suction discharge and screw conveyor dosing, resulting in outstanding operational reliability and durability. Depending on preference, you have a choice between a high grade steel/mesh hopper or sloping floor storage room with discharge screw conveyor.
Pioneering control
Fully automatic control of appliance and storage room functions, as well as regulation of the ambient climate, utilising the most advanced control technology. Individual adjustments can be made easily via the clear touch-screen controller, possibly via a room control station or a smartphone app.
Durable quality
In order to ensure that our appliances meet our high quality aspirations and those of our demanding customers, Guntamatic manufactures them completely and exclusively, using the best possible materials in its state-of-the-art Austrian factory.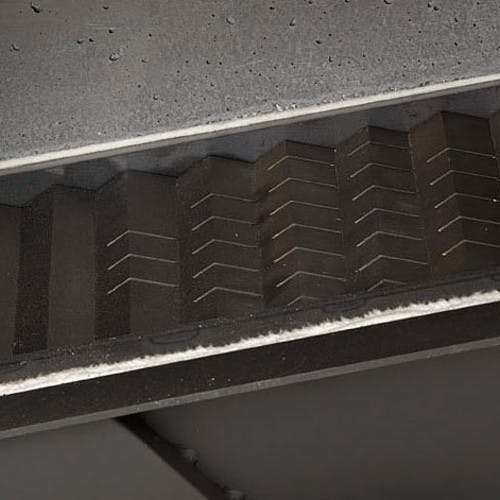 Industrial step grate technology
Biocom systems operate with a self-cleaning step grate which is generally only found in larger plants. This enables the ember bed height and boiler output to be adjusted in line with demand and fuel, without risking slag forming inside the boiler. The moving step grate keeps the primary air slots clean, ensures optimum combustion and also that ash is correctly discharged.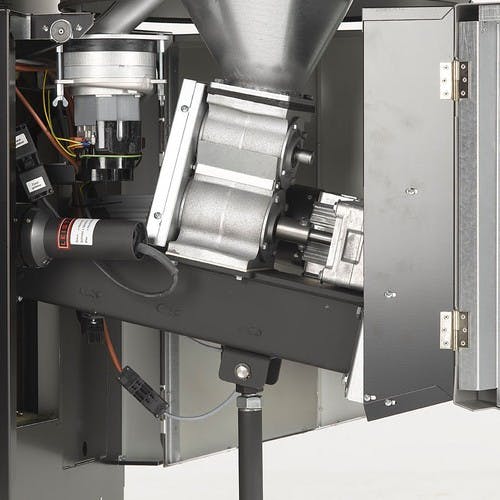 High grade components
In order to prevent unintentional surprises, Biocom boilers are made exclusively using the highest grade components. The robust version of the vacuum system and screw conveyor discharge, the reliable motors and gear units and the resilient silicon combustion chamber with step grate technology are but a few examples of this.
Box
Box containers of various sizes are available to suit the dimensions of each available storage room. The steel floor and fabric design is extremely capacious and also allows the container to be emptied completely, thereby reducing the cleaning effort. A screw conveyor-dosing vacuum discharge guarantees highly reliable operation.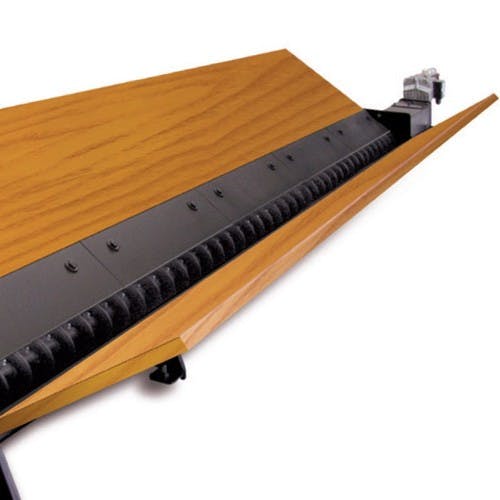 Flex
Guntamatic Flex discharge units are suitable for particularly large, intensively used, storage facilities. The discharge screw conveyor of the vacuum discharge system has been designed for efficiency and a long service life. It offers a highly reliable operation as well as low cleaning effort, and discharge from stores with sloping floors. Where the sloping floors are made on site, this is also a particularly affordable solution.
Features:
Ecological and economical heating convenience
Self-cleaning industrial step grate for adjusting the ember bed size and boiler output without generating slag
Clean primary air slots and optimum combustion through moving step grate technology
Up to 95% efficiency
Self-cleaning tube bundle heat exchanger ensures long operating times without maintenance or cleaning measures
Automatic adjustment of the fuel charge, grate speed and air intake
Suitable for wood pellets class ENPlus A1 and ENPlus A2
Ash screw conveyor and moveable ash box or fully automatic vacuum ash discharge into a 200 litre drum (option) for the highest cleaning convenience
Well thought-out and user friendly interface with touchscreen
Control by mobile (option)
High grade components for maximum operational reliability
Multi-stage safety concept through stoker unit controlled by lambda probes, protects against back burning and unpleasant surprises
First class spare parts service from our own production
Modular pellet discharge concept, suitable for almost every situation
Robust, gentle screw conveyor system for high operational reliability
Minimum power consumption thanks to energy efficient discharge
Extremely robust pellet discharge screw conveyor with sprung arm agitator
Information on other systems in our range can be found on the biomass boilers page.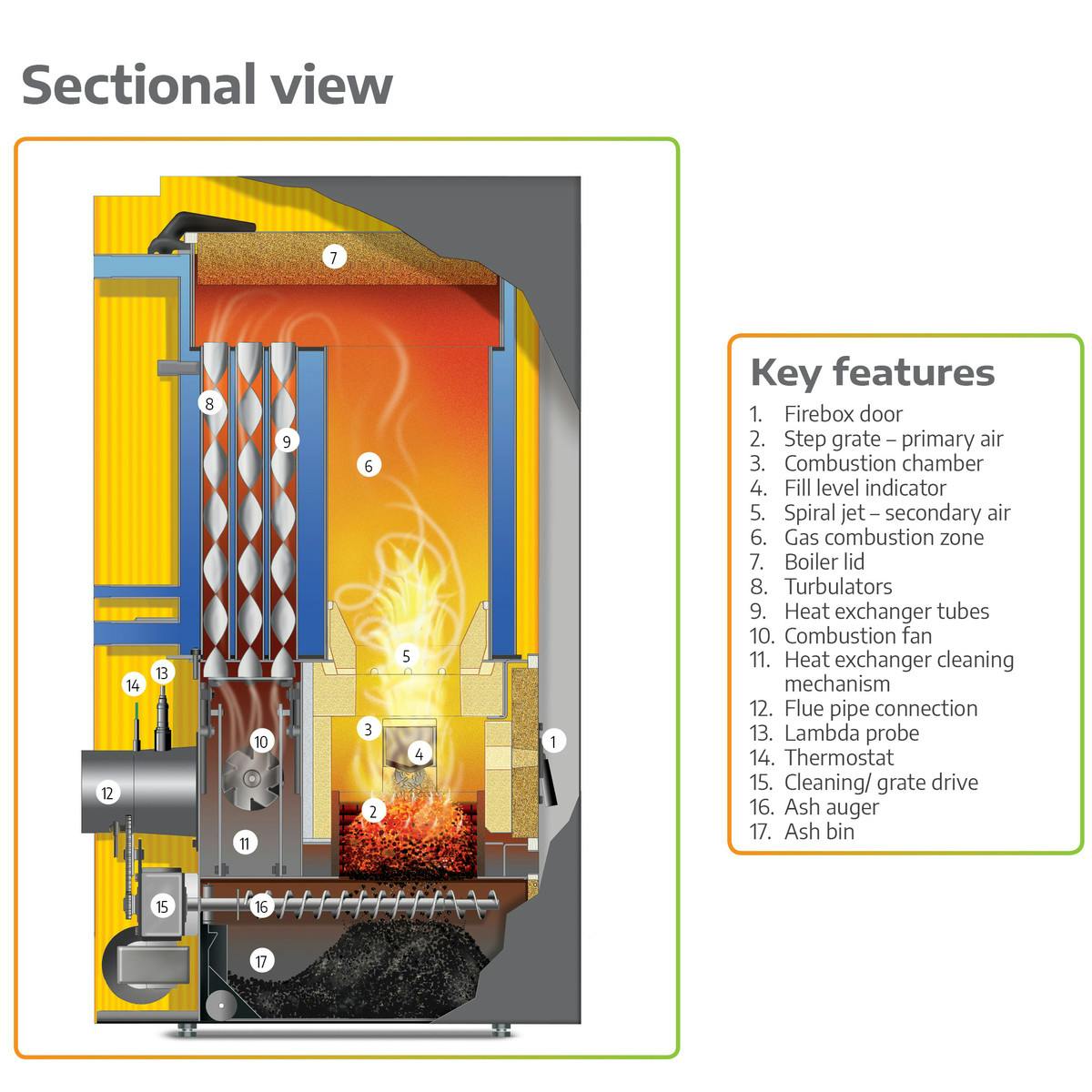 Flex fuel delivery system
The Flex is an option for assisting the construction of a custom built fuel store. It includes an up to 25m vacuum hose which connects to a custom-built wood pellet fuel store. Fuel is then fed into the vacuum hose from the fuel store by auger.
The fuel store can be whatever size you require, hence the word 'flex'.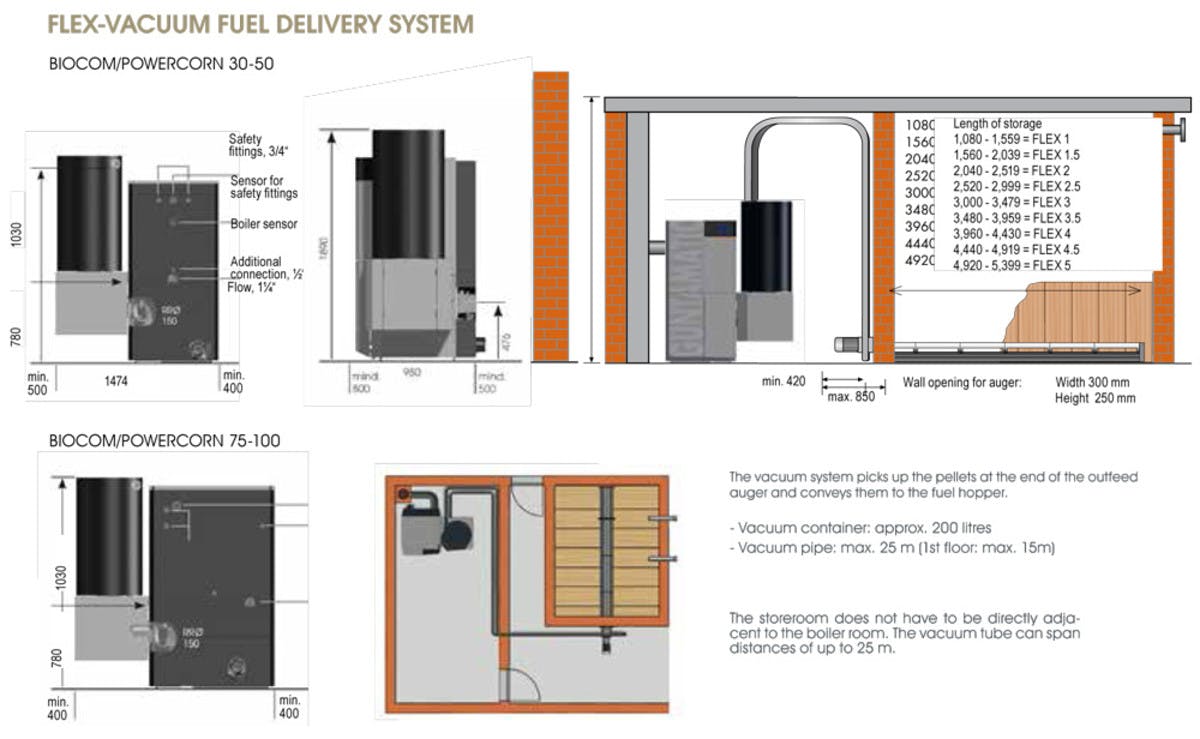 We always recommend building a fuel store of a sufficient size to minimise the amount of fills to three or four times per annum and to enable you to bulk buy to keep fuel costs as low as possible. Auger lengths of 1m-5.4m give you this flexibility.
Box prefabricated fuel store
The system includes a vacuum tube that links to the 'Box' fuel store, from which the fuel is fed by auger. The Box fuel store has a stable steel base plate, filler and suction coupling.

The Box fuel store comes flat-packed, in five different sizes, all with an adjustable height of 180mm-250mm. An auger is connected to the vacuum tube which will then feed wood pellets into the boiler.
Box 5.2
170 (w) x 170 (l) mm: 2 tonnes – 3.4 tonnes or 3.5m3 – 2m3
Box 7.5
210 (w) x 210 (l) mm: 3 tonnes – 4.7 tonnes or 5m3 – 7.5m3
Box 8.3
290 (w) x 170 (l) mm: 4 tonnes – 5.4 tonnes or 6.1m3 – 8.3m3
Box 11
250 (w) x 250 (l) mm: 5 tonnes – 6.7 tonnes or 8.3m3 – 8 1m3
Box 14
290 (w) x 290 (l) mm: 6.5 tonnes – 9.1 tonnes or 6.5m3 – 14.1m3
Browse through our product range
As the importers and distributors of two of the largest Austrian biomass boiler manufacturers, there's an extensive range of systems we can offer. We pride ourselves on providing the most appropriate system for your project and will source other systems if necessary. When we need single systems above 1.5MW in size, or WID/IED boiler suitable for burning Grade C hazardous wood waste, we would look to other manufacturers such as Uniconfort. Browse through our product range or give us a call to discuss your requirements and our team will be able to hand-pick the best biomass boiler for your project.
Unsure which biomass boiler would suit your project?
Call us today for the best solution