Guntamatic Powerchip
There are many features and benefits of a Guntamatic Powerchip 75kW/100kW biomass boiler.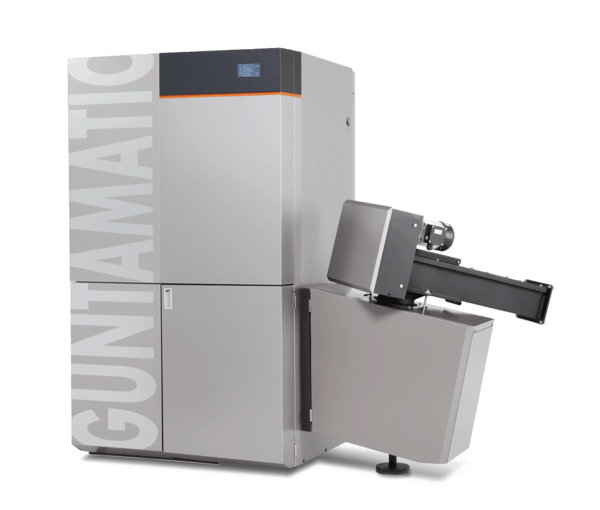 Highly efficient combustion
The wood chips are gasified on the industrial step grate, where primary air is supplied at an ember bed with a temperature of around 850 °C. The amount of combustion air and fuel charge is regulated by means of a lambda probe, so that the system achieves a level of efficiency of up to 94% with an output of 26%-100%. This ultimately leads to reduced fuel consumption, more heat for your money and a more complete burn. With the aid of secondary air, the generated combustion gases are cleanly and efficiently converted into energy in a large rotating combustion zone. The Powerchip's emissions have been measured as significantly below the maximum emissions set out as a requirement for the RHI.
Cleaning has never been easier
The self-cleaning moving step grate system helps the Powerchip boiler cope with a wide variety and quality of fuel types. An ash screw conveyor transports the ash from the self-cleaning step grate into an especially large moveable ash box. With only 0.5%-1% ash to the volume of fuel, this means you'll only need to empty the ash bin every six to eight weeks.
During the cleaning process, dust from the automatic heat exchanger is also continuously moved into a separate, easy-to-empty container. In addition, the constant motion of the turbulators keeps the heat exchanger tubes free from efficiency-reducing deposits. Moreover, the optional automatic vacuum ash discharge into a 200 litre drum just adds extra convenience to the cleaning process.
Low power consumption
The pioneering discharge system operates with slow turning motors that consume very little power and develop extremely high torque of up to 1200 Nm. In addition, the progressive screw conveyor incline and the optimised trough geometry, ensure the highest operational reliability.
Advanced touch-screen control
Operating Powerchip biomass heating systems is particularly easy thanks to the well thought-out and user friendly touch-screen interface. All settings and scans of system data can be made in just a few steps, and an optional GSM module means you're able to control the Powerchip from your smartphone. The touch-screen interface even makes changing fuel types a simple process.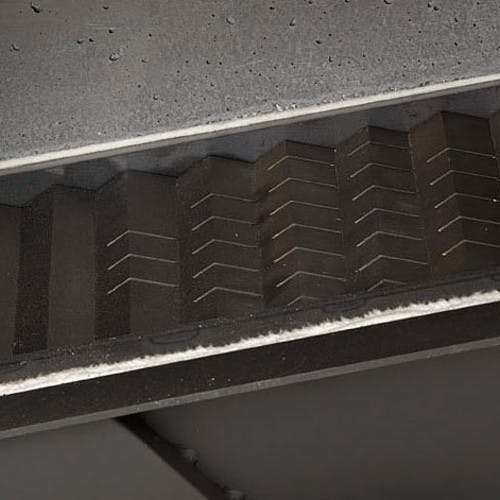 Industrial step grate technology
Powerchip systems operate with a self-cleaning step grate which is generally only found in larger plants. This enables the ember bed height and boiler output to be adjusted in line with demand and fuel, without risking slag forming inside the boiler. The moving step grate keeps the primary air slots clean, ensures optimum combustion and also that ash is correctly discharged.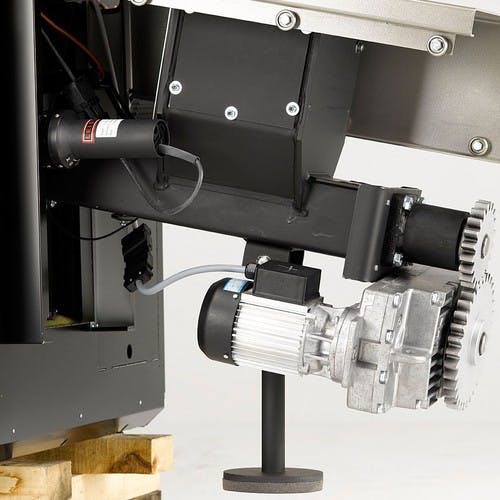 High grade components
In order to prevent unpleasant surprises, Powerchip boilers are made exclusively using the highest grade components. The robust version of the agitator motors and screw conveyor discharge, the reliable motors and gear units and the resilient silicone combustion chamber with step grate technology are but a few examples of this.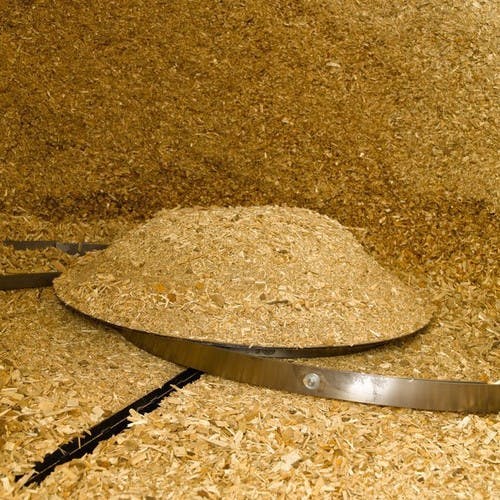 Fuel fed efficiently
The extremely robust screw conveyor with sprung arm agitator transports the fuel carefully and with the least possible amount of force. Durable and maintenance-free HF gear units and motors provide optimum operational reliability.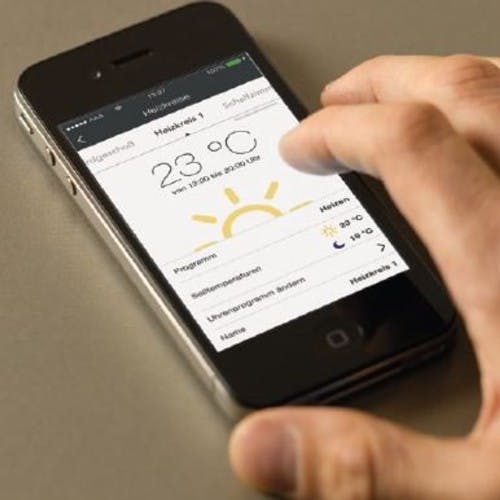 Full control
The optional pioneering control app from Guntamatic lets you regulate your heating system at any time and from anywhere. The intuitive user prompts and the touch/swipe controls allow you to call up and adjust temperatures and heating programmes with a smartphone. Furthermore, the app keeps you informed of the current status of your heating system and offers various forms of analysis. 
Features:
Self-cleaning industrial step grate for adjusting the ember bed size and boiler output without generating slag
Clean primary air slots and optimum combustion through moving step grate technology
Up to 94% efficiency
Self-cleaning tube bundle heat exchanger ensures long operating times without maintenance or cleaning measures
Suitable for wood pellets (ENPlus A1 and ENPlus A2), wood chips (G30 and G50, up to W30), grain and miscanthus
Ash screw conveyor and moveable ash box or fully automatic vacuum ash discharge into a 200 litre drum (option) for the highest cleaning convenience
Well thought-out and user friendly interface with touchscreen
Control by mobile (option)
High grade components for maximum operational reliability
Excellent quality and components tested several times
First class spare parts service
Modular pellet discharge concept, suitable for almost every situation
Minimum power consumption thanks to energy efficient fuel discharge
Extremely robust pellet discharge screw conveyor with sprung arm agitator
Information on other systems in our range can be found on the biomass boilers page.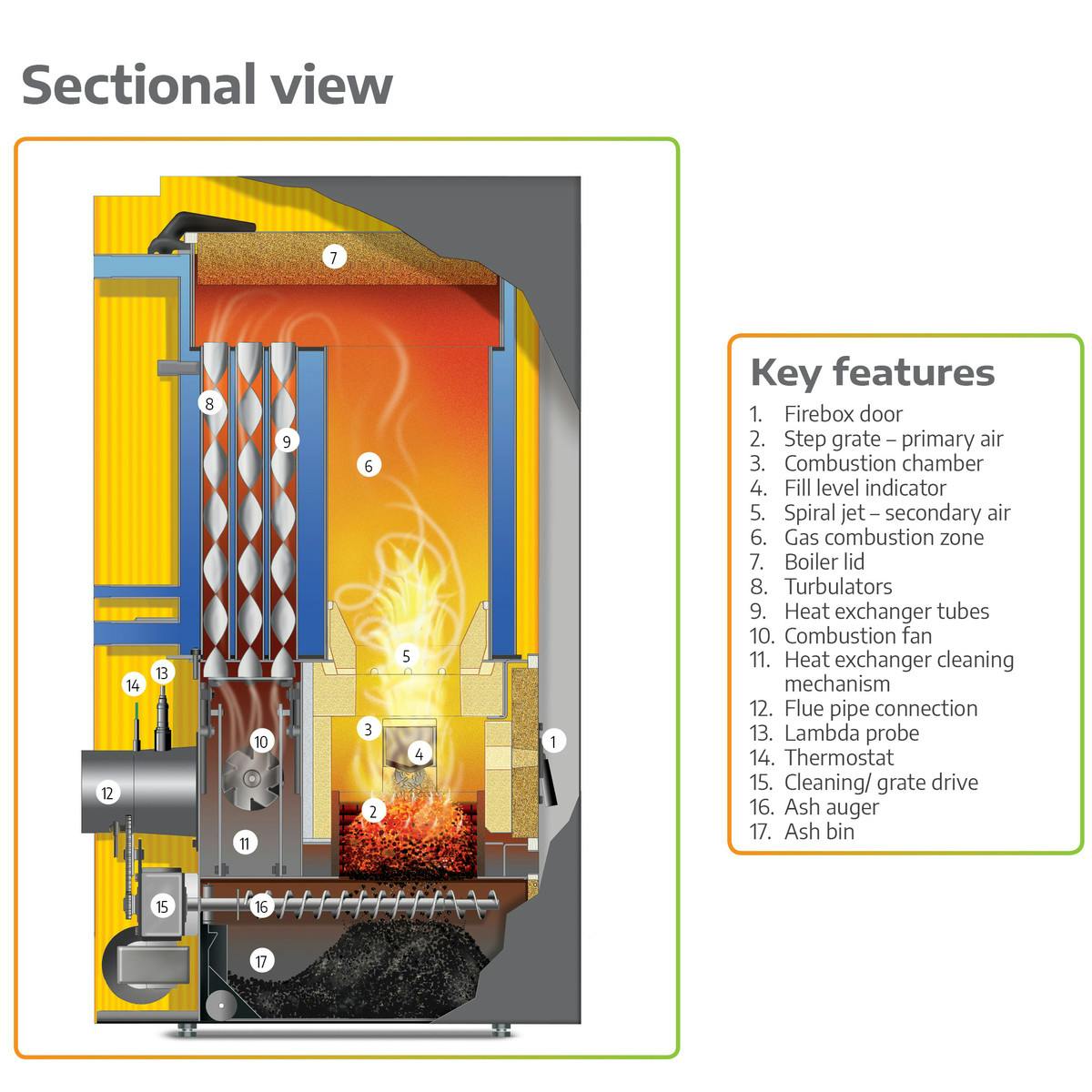 Browse through our product range
As the importers and distributors of two of the largest Austrian biomass boiler manufacturers, there's an extensive range of systems we can offer. We pride ourselves on providing the most appropriate system for your project and will source other systems if necessary. When we need single systems above 1.5MW in size, or WID/IED boiler suitable for burning Grade C hazardous wood waste, we would look to other manufacturers such as Uniconfort. Browse through our product range or give us a call to discuss your requirements and our team will be able to hand-pick the best biomass boiler for your project.
Unsure which biomass boiler would suit your project?
Call us today for the best solution